Elementary-age children learn best when lessons are short and engaging, so what better way to teach content-area concepts than with picture books--with living books, as opposed to textbooks? I love picture books! When my children are grown and gone, picture books are one of the things I'll miss the most.
You'll find quite a few on Thomas Jefferson, and many on slavery, too.
First Garden: The White House Garden and How it Grew
by Robbin Gourley, published 2011
Synopsis
: The White House kitchen garden, part of Michelle Obama's campaign to encourage healthful eating, was established in 2009. This book tells the story of Mrs. Obama's garden, as well as the story of the White House grounds, the other gardens (including Eleanor Roosevelt's Victory Garden in World War II) that came before, the White House children who have played there, and the teamwork, involving local children as well as the Obama family and White House staff, that led to the garden now flourishing on the South Lawn. This is a lighthearted, entertaining, and lavishly illustrated introduction to an inspiring and much-publicized project. Includes recipes.
Take Shelter: At Home Around the World
Synopsis
: A roof, a door, some windows, a floor. All houses have them, but not all houses are alike. Some have wings (airplane homes), some have wheels (Romany vardoes), some float; some are made of straw, some of snow and ice. Some are enormous, some are tiny; some are permanent and some are temporary. But all are home. Take Shelter explores the way people live all over the world and beyond--from the Arctic to the Antarctic, from an underground house in Las Vegas to the International Space Station. Everywhere people live, they adapt to their surroundings and create unique environments, using innovative techniques to provide that most basic of needs: shelter.
Lives of the Explorers: Discoveries, Disasters (and What the Neighbors Thought)
by Kathleen Drull and Kathryn Hewitt
Published August, 2015
Synopsis
:
You might know that Columbus discovered America, Lewis and Clark headed west with Sacajawea, and Sally Ride blasted into space. But what do you really know about these bold explorers? What were they like as kids? What pets or bad habits did they have? And what drove their passion to explore unknown parts of the world? With juicy tidbits about everything from favorite foods to first loves,
Lives of the Explorers
reveals these fascinating adventurers as both world-changers and real people.
The entertaining style and solid research of the Lives of . . . series of biographies have made it a favorite with families and educators for twenty years. This new volume takes readers through the centuries and across the globe, profiling the men and women whose curiosity and courage have led them to discover our world.
by Nikki Bruno Clapper
Published October, 2015
Synopsis
: What is a primary source? How does it compare to other types of sources? Even the youngest learners need to know the difference. Straightforward text and clear photographs give readers the tools they need to learn about primary sources and media literacy.
by Patricia Polacco
Published September, 2015
Synopsis
: Friendship, loyalty, and kindness stand the test of time in this heartwarming World War II–era picture book based on a true story from the beloved author-illustrator of
Pink and Say
and
The Keeping Quilt.
Tucky Jo was known as the "kid from Kentucky" when he enlisted in the army at age fifteen. Being the youngest recruit in the Pacific during World War II was tough. But he finds a friend in a little girl who helps him soothe his bug bites, and he gets to know her family and gives them some of his rations. Although the little girl doesn't speak English, Tucky Jo and Little Heart share the language of kindness. Many years later, Tucky Jo and Little Heart meet again, and an act of kindness is returned when it's needed the most in this touching picture book based on a true story.
My Notes: Loved this. Incredible true story and a tear-jerker, as so many of Patricia Polacco's books are. It realistically depicts the horrors of war, however it was not too much for my 6 or 9 year olds. I highly recommend it.
Albie's First Word: A Tale Inspired by Albert Einstein's Childhood by Jacqueline Tourville
Here's a beautiful historical fiction picture book that provides a rare glimpse into the early childhood of Albert Einstein, the world's most famous physicist.
Three-year-old Albie has never said a single word. When his worried mother and father consult a doctor, he advises them to expose little Albie to new things: a trip to the orchestra, an astronomy lecture, a toy boat race in the park. But though Albie dances with excitement at each new experience, he remains silent. Finally, the thoughtful, quiet child witnesses something so incredible, he utters his very first word: "Why?"
Kids, parents, and teachers will be delighted and reassured by this joyous story of a child who develops a bit differently than others.
by Kathleen Krull
Published June, 2015
Synopsis: Many awe-inspiring women have changed the course of history. From fighting for social justice and women's rights to discovering and shaping our amazing country, women have left an indelible mark on our past, present, and future. But it's not easy to affect change, and these women didn't always play by the rules to make a difference! Kathleen Krull blends history and humor in this accessible young biography series.
Sacajawea was only sixteen when she made one of the most remarkable journeys in American history. She traveled over four thousand miles by foot, canoe, and horse-all while carrying a baby on her back! Without her, the Lewis and Clark expedition might have failed. Two hundred years later, we still can see how her unique journey demonstrated the strength and value of women.
Dear Malala, We Stand With You
by Rosemary McCarney with Plan International (About the Arabic girl who was shot by the Taliban in Pakistan after standing up for a girl's right to an education. She recovered and now resides in England and speaks about equal rights.)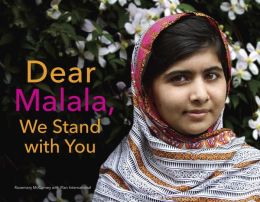 Ben Franklin's Big Splash: The Mostly True Story of His First Invention by Barb Rosenstock
Every inventor has to start somewhere, and one of the greatest innovators in our history was no exception. Ben Franklin developed his first invention while doing what he loved best: swimming! Ben's Big Splash is the story of Franklin's first invention, his journey through the scientific method, and the surprising successes that result when you're willing to make mistakes. Barb Rosenstock's rhythmic, whimsical style is the perfect complement to S. D. Schindler's pen and ink and watercolor illustrations. Together they recreate history in an engaging and unique way. Both author and illustrator worked closely with Franklin experts, and the book includes Franklin quotes, an extensive author's note, timeline, and bibliography.
by Chris Butterworth
Published August, 2015
Synopsis: Did you know that the cotton for your jeans was picked from a bush? How did the colorful wool in your sweater get from a sheep's back to a ball of yarn? Where did your soccer uniform, your rain boots, and your fleece jacket come from? And what does recycling plastic bottles have to do with anything? Visit farms, forests, and factories all over the world to find out how everything you wear has a story behind it. Back matter includes an author's note, an illustrator's note, a bibliography, and an index.
Freedom's School by Lesa Cline-Ransome
Synopsis
: When Lizzie's parents are granted their freedom from slavery, Mama says its time for Lizzie and her brother Paul to go to a real school--a new one, built just for them. Lizzie can't wait. The scraps of learning she has picked up here and there have just made her hungry for more
.
The walk to school is long. Some days it's rainy, or windy, or freezing cold. Sometimes there are dangers lurking along the way, like angry white folks with rocks, or mysterious men on horseback. The schoolhouse is still unpainted, and its very plain, but Lizzie has never seen a prettier sight. Except for maybe the teacher, Mizz Howard, who has brown skin, just like her.
They've finally made it to Freedom's School. But will it be strong enough to stand forever?
Juneteenth for Mazie by Floyd Cooper
Synopsis:
Mazie is ready to celebrate liberty. She is ready to celebrate freedom. She is ready to celebrate a great day in American history the day her ancestors were no longer slaves. Mazie remembers the struggles and the triumph, as she gets ready to celebrate Juneteenth.This beautiful story by award-winning author and illustrator Floyd Cooper will captivate both children and adults.
The History of Money: From Bartering to Banking by Martin Jenkins
Publisher Synopsis
:
What can take the form of a stone with a hole in the middle, a string of shells, a piece of paper, or a plastic card? The answer is money, of course. But when did we start using it? And why? What does money have to do with writing? And how do taxes and interest work? From the Stone Age to modern banking, this lighthearted and engaging account traces the history of the stuff that makes the world go round.
This is not your standard children's review of the historical shift from barter to currency, with emphasis on exotic media for trade, culminating in our own paper and coinage. Instead, this is a post-2008 financial meltdown essay, broken into short, lively chapters tinged with tart humor, that walks kids through development of money and money-lending. ... A spacious layout and Kitamura's delightful cartoon vignettes make the dense topics of taxation, interest, and inflation, and international currency valuation less daunting.
—Bulletin of the Center for Children's Books
William Shakespeare: A Man For All Times
by Paul Shuter
Synopsis
: Grades 7-9 Who was William Shakespeare? How much do we really know about him, and how much of what is believed is myth? This unique biography takes the reader step-by-step through Shakespeare's life, setting out the evidence and what we can reasonably infer about him. It reminds the reader about the world he lived in, such as that standard spelling of words did not exist in his time, and shows how we must think carefully before applying modern ideas to explain his life.
My Note
: Chapters include: who was Shakespeare; where did he come from; after school and marriage; what happened next; moving to London; what makes him different; was he rich; the King's man,; did Shakespeare retire; money then and now; glossary; source references; find out more; epilogue.
My boys are learning about Shakespeare later this year as part of Sonlight Core G, (World History Part 1). We will definitely include this source.
Many on Thomas Jefferson to follow:
Thomas Jefferson Life, Liberty and the Pursuit of Everything
by
Maira Kalman (published 1/7/2014)
Overview
: (Grades 1 - 4) Renowned artist Maira Kalman sheds light on the fascinating life and interests of the Renaissance man who was our third president.
Thomas Jefferson is perhaps best known for writing the Declaration of Independence—but there's so much more to discover. This energetic man was interested in everything. He played violin, spoke seven languages and was a scientist, naturalist, botanist, mathematician and architect. He designed his magnificent home, Monticello, which is full of objects he collected from around the world. Our first foodie, he grew over fifteen kinds of peas and advocated a mostly vegetarian diet. And oh yes, as our third president, he doubled the size of the United States and sent Lewis and Clark to explore it. He also started the Library of Congress and said, "I cannot live without books." But monumental figures can have monumental flaws, and Jefferson was no exception. Although he called slavery an "abomination," he owned about 150 slaves.
Thomas Jefferson Builds a Library by Barb Rosenstock (published 9/1/2013)
Synopsis: (grades 1 - 5) As soon as Thomas Jefferson learned to read, he found his passion: books, books, and more books! Before, during, and after the American Revolution, Jefferson collected thousands of books on hundreds of subjects. In fact, his massive collection eventually helped rebuild the Library of Congress—now the largest library in the world. Barb Rosenstock's rhythmic words and John O'Brien's whimsical illustrations capture Jefferson's passion for the written word as well as little-known details about book collecting. Author and artist worked closely with experts to create the first picture book on Jefferson's love of reading, writing, and books. An author's note, bibliography, and source notes for quotations are also included.
Synopsis: (Grades 3-8) In this fascinating story, readers spend a day with Thomas Jefferson as he and his grandson visit the vast plantation of Monticello. Readers learn about Jefferson; the gadgets and household items that he reinterpreted and the plow he invented; the famous house; the surrounding farms with their gardens, fields, factories, and mills; the workshops of the enslaved people on Mulberry Row; and much, much more.
The book is illustrated with archival as well as newly commissioned illustrations and includes a timeline, bibliography, and index.

Praise for Thomas Jefferson
"The illustrations include excellent photos of sites, artifacts, and documents as well as paintings that extend the text. The lightly fictionalized, engaging narrative, which includes many conversations, is bolstered by sidebars offering additional information..."
--Booklist

"After finishing this beautifully illustrated book, also stocked with abundant photographs of artifacts housed at Monticello, readers will be left more curious than ever about the life and accomplishments of Thomas Jefferson."
--School Library Journal
A Picture Book of Thomas Jefferson by David Adler (published 3/28/1990)
Synopsis
: School Library Journal Gr 1-3 -- Adler makes Jefferson accessible to young children in this new addition to his biography series. In the brief text, he covers the main achievements and events in Jefferson's life and portrays him as an intellectual, inventor, lawyer, architect, and statesman who disliked presidential pomp. He mentions that, although opposed to the idea of slavery, Jefferson owned slaves throughout his life and several are depicted in the illustrations. Adler's writing is clear and objective, free of fictionalization, and easily read. It will also serve as a read-aloud. The format is attractive; each double-page spread contains a framed painting with short paragraphs superimposed on the illustration. The Wallners' charming watercolors include many details that show the furnishings, clothing, and daily life of 18th-century Virginia. Easier to read than Smith's Thomas Jefferson (Messner, 1989), the book is an informative introduction to this prominent American leader.
Thomas Jefferson A Picture Book Biography by James Cross Giblin (published Scholastic 1994)
Synopsis
: Booklist Gr. 4-6, younger for reading aloud. In the same picture-book format as the author and illustrator's George Washington (1992), this volume presents the life of Thomas Jefferson. Giblin records the significant events in Jefferson's long and varied career with enough personal incidents and sidelights to give readers some sense of the man himself, as well as his place in history. Despite the limits of a 48-page picture book, Giblin portrays Jefferson as a complicated, many-sided man and is candid about such issues as his involvement with slavery. Dooling's dramatic oil paintings stretch across each double-page spread. In this series of impressionistic illustrations of people and places, Jefferson appears first as a three-year-old, gradually maturing in the pictures as the story progresses, a series of transitions Dooling manages with finesse. The book ends with a helpful chronology, a series of intriguing quotations from Jefferson's letters, and a section describing Jefferson's beloved home, Monticello. Historically accurate and visually handsome, this is the best Jefferson biography available for young students.
DK Biography: Thomas Jefferson (by DK Publishing, March, 2009)
Synopsis
: (ages 8 - 13 yrs) Filled with archival photographs and amazing fact boxes, DK Biography is a groundbreaking series that introduces young readers to some of history's most interesting and influential characters.
From his childhood in Virginia to his two terms as President of the United States, DK Biography: Thomas Jefferson tells the story of the principal author of the Declaration of Independence.
Many On Slavery to Follow
All Different Now: Juneteenth, the First Day of Freedom by Angela Johnson
Synopsis
: Gr 3 Up—Previous picture books about Juneteenth (the holiday celebrating the day slaves were freed in Texas—two years after the rest of the country) have focused on contemporary children discovering this quirk of history. Valerie Wesley's
Freedom's Gifts
(S. & S., 1997) and Carole Boston Weatherford's
Juneteenth Jamboree
(Lee & Low, 1995) fall into that category. Johnson imagines what it would be like to be a slave one minute and a free person the next. Spare text, structured as free verse, hones in on the smell of honeysuckle and breakfast routines as the day begins, like any other. The titular phrase appears three times: first to build suspense, then to indicate the earthshaking import of the message spreading from the port, and, finally, to reflect on the consequences. Lewis paints details not mentioned. The protagonist is a girl living in the slave quarters with her siblings and mother. They are working in the cotton fields when the news arrives. Skillful watercolor renderings depict nuanced changes in lighting and focus, thereby capturing individual responses to a community's new reality—from incredulity and quiet contemplation to rapture. Occasional panels indicate passing time; the brilliant clarity of the fields at noon fades to a green-blue gauze over the revelers heading home from a late-night celebration. A time line, glossary, overview, list of websites, and notes by author and illustrator provide deeper understanding. With a narrative notable for its understated simplicity and lack of judgment, this title allows readers to draw their own conclusions. An affecting entrée to a challenging conversation
My note
: There are few words to this text, but the words included
are
beautiful
. Within the first two pages, your tears will flow over the magnitude of what the characters experience on their first free day. It is as though you are there, experiencing their surprise and joy. Don't miss this one!
Freedom's School by Lesa Cline-Ransome
Synopsis
: When Lizzie's parents are granted their freedom from slavery, Mama says its time for Lizzie and her brother Paul to go to a real school--a new one, built just for them. Lizzie can't wait. The scraps of learning she has picked up here and there have just made her hungry for more
.
The walk to school is long. Some days it's rainy, or windy, or freezing cold. Sometimes there are dangers lurking along the way, like angry white folks with rocks, or mysterious men on horseback. The schoolhouse is still unpainted, and its very plain, but Lizzie has never seen a prettier sight. Except for maybe the teacher, Mizz Howard, who has brown skin, just like her.
They've finally made it to Freedom's School. But will it be strong enough to stand forever?
Juneteenth for Mazie by Floyd Cooper
Synopsis:
Mazie is ready to celebrate liberty. She is ready to celebrate freedom. She is ready to celebrate a great day in American history the day her ancestors were no longer slaves. Mazie remembers the struggles and the triumph, as she gets ready to celebrate Juneteenth.This beautiful story by award-winning author and illustrator Floyd Cooper will captivate both children and adults.
Mumbet's Declaration of Independence by Gretchen Woelfle (published February, 2014)
Synopsis
: (from
Booklist
) Mumbet is owned by Colonel John Ashley, but she longs to be free. As the Founding Fathers work on the Declaration of Independence, Mumbet overhears the men discussing the phrase, free and independent. Seven years later, when Mumbet slips into the back of a town hall meeting about the Massachusetts Constitution, she hears, All men are born free and equal—and she decides to test the new law. So she visits a young lawyer who is so impressed with her determination that he decides to take her case. Surprisingly, Mumbet won freedom for herself and her daughter, and her case led to slavery being declared unconstitutional in Massachusetts in 1783. Mumbet's still largely unknown story came to light through letters and journal entries written by her lawyer's daughter. Delinois' minimalist but highly evocative acrylic illustrations add depth to the sensitive, inspiring text. A great addition to picture-book collections of American history.
Grades 1-4.
Synopsis
: (from School Library Journal)
Gr 2–4
—Elizabeth Freeman, known as "Mumbet," was an African American slave in 18th-century Massachusetts. The Massachusetts Constitution of 1780 included the provision, "All men are born free and equal, and have certain natural, essential, and unalienable rights." Using that document as a basis, Mumbet, with the support of a young lawyer named Theodore Sedgwick, challenged the legality of slavery. As a result of their efforts, in 1783 slavery was declared unconstitutional and 5000 slaves in the state gained freedom. Vividly colored illustrations reflect the generally hopeful tone of the story, while bold compositions and thickly layered paint suggest folk art. Freeman's strength of character is reflected in her determined facial expressions and strong stance. While her story is highly inspiring, details about her life are sketchy; information comes primarily from an account written by Catharine Maria Sedgwick, the daughter of Theodore. While this picture book is presented as nonfiction, the story itself is highly fictionalized. An author's note explains what is known about Mumbet and reminds readers that "History is fluid."
Dave the Potter: Artist Poet Slave by Laban Hill (published September, 2010)
Synopsis
: (from Booklist) As a closing essay explains, little is known about the man known as Dave the potter. Two things are certain, though: he was a slave in South Carolina, and he was a potter of uncommon skill. As Hill writes, "Dave was one of only two potters at the time who could successfully make pots that were larger than twenty gallons." He also inscribed strange, sophisticated poetry into the clay: "I wonder where / is all my relation / friendship to all— / and, every nation." The verses Hill uses to introduce us to Dave are sometimes just as evocative: "On wet days, / heavy with rainwater, / it is cool and squishy, / mud pie heaven." The book's quiet dignity comes from its refusal to scrutinize life as a slave; instead, it is nearly a procedural, following Dave's mixing, kneading, spinning, shaping, and glazing. Collier's gorgeous watercolor-and-collage illustrations recall the work of E. B. Lewis—earth-toned, infused with pride, and always catching his subjects in the most telling of poses. A beautiful introduction to a great lost artist.
Grades K-3.

Synopsis:
(from School Library Journal)
Grades
K-4
The life of an astonishingly prolific and skilled potter who lived and died a slave in 19th-century South Carolina is related in simple, powerful sentences that outline the making of a pot. The movements of Dave's hands are described using familiar, solid verbs: pulling, pinching, squeezing, pounding. Rural imagery–a robin's puffed breast, a carnival wheel–remind readers of Dave's surroundings. The pithy lines themselves recall the short poems that Dave inscribed on his pots. Collier's earth-toned watercolor and collage art extends the story, showing the landscape, materials, and architecture of a South Carolina farm. Alert readers will find hidden messages in some of the collages, but what stands out in these pictures are Dave's hands and eyes, and the strength of his body, reflected in the shape and size of his legendary jars and pots. A lengthy author's note fleshes out what is known of the man's life story and reproduces several of his two-line poems. A photograph of some of Dave's surviving works cements the book's link to the present and lists of print and online resources encourage further exploration. An inspiring story, perfectly presented and sure to prompt classroom discussion and projects. Outstanding in every way
Henry's Freedom Box: A True Story From the Underground Railroad by Ellen Levine (published January, 2007)
Synopsis
: (from Publisher's Weekly) Levine recounts the true story of Henry Brown, a slave who mailed himself to freedom. Thanks to Nelson's penetrating portraits, readers will feel as if they can experience Henry's thoughts and feelings as he matures through unthinkable adversity. As a boy, separated from his mother, he goes to work in his new master's tobacco factory and eventually meets and marries another slave, with whom he has three children. In a heartwrenching scene depicted in a dramatically shaded pencil, watercolor and oil illustration, Henry watches as his family—suddenly sold in the slave market—disappears down the road. Henry then enlists the help of an abolitionist doctor and mails himself in a wooden crate "to a place where there are no slaves!" He travels by horse-drawn cart, steamboat and train before his box is delivered to the Philadelphia address of the doctor's friends on March 30, 1849. Alongside Henry's anguished thoughts en route, Nelson's clever cutaway images reveal the man in his cramped quarters (at times upside-down). A concluding note provides answers to questions that readers may wish had been integrated into the story line, such as where did Henry begin his journey? (Richmond, Va.); how long did it take? (27 hours). Readers never learn about Henry's life as a free man—or, perhaps unavoidably, whether he was ever reunited with his family. Still, these powerful illustrations will make readers feel as if they have gained insight into a resourceful man and his extraordinary story.
Ages 4-8.
Love Twelve Miles Long by Glenda Armand (published November, 2011)

Synopsis:
Publisher's Weekly
Inspired by the childhood of Frederick Douglass, Armand's debut reveals a poignant conversation between young Frederick and his mother, paired with Bootman's arresting and emotive paintings. Frederick's mother works long days as a slave in the cornfields, and the boy lives on another plantation; the story takes place on a rare "special night," when Mama walks the 12 miles between their residences to visit her son, who listens eagerly as she recalls her journey. She devotes each mile to a different pastime: the first mile is for forgetting how tired she is, the second is for remembering everything about her son, the third is for listening to the sounds of the night, and so on. Armand's narrative smoothly transitions between each of Mama's preoccupations: "I pray that one day we will all be free. And all that praying makes me feel like singing." Bootman deftly uses candlelight and moonlight to give his art a lovely iridescence, and presents intimate portraits of mother and son. A brief afterword provides additional background on Douglass and his mother.
Ages 6–11

Synopsis:
(from publisher)
It's late at night, and Frederick's mother has traveled twelve miles to visit him. When Frederick asks Mama how she can walk so far, Mama recounts her journey mile by mile. Every step of the way is special, as it brings them closer together; and Mama passes the time by remembering, listening, praying, singing, and more. Set on a plantation in 1820s Maryland, this story based on the life of young Frederick Douglass shows the power of his mother's love. The faith she has in her son puts him on a path to escape enslavement and to become a champion of human rights, an influential writer and speaker, and an unforgettable leader. Expressive, candlelit paintings illuminate the bond between parent and child in this heartfelt story. Love Twelve Miles Long will resonate with children of all backgrounds who cherish the tender moments they share with those they love.
The Escape of Oney Judge: Martha Washington's Slave Finds Freedom by Emily Arnold McCully (published January, 2007)
Synopsis
: (From Publisher's Weekly) On a Virginia plantation in 1859, the slaves work hard to get the Big House ready for Christmas, and to prepare their own Quarters for the "Big Times" also. As they describe the goings-on during the weeks before Christmas as well as the actual rituals of the day, the McKissacks carefully and convincingly delineate the discrepancies between the two milieux-from the physical settings to the people's differing appreciations of the holiday's riches. The contrast is startling and stirring. This is a book of significant dimension and importance, and could be read at any time of year. The authors also add riddles, rhymes, recipes and copious notes. Rendered in acrylic on board, Thompson's remarkably realistic paintings are charged with emotion and masterfully tie together the book's diverse contents.
Ages 8-13
.
by Angela Farris Watkins, PhD, published February, 2015
School Library Journal Synopsis:
Gr 2–6—In this vividly illustrated picture book, Watkins, niece of Martin Luther King Jr., provides a simplified version of his six guiding principles of nonviolence: have courage; love your enemies; fight the problem, not the person who caused it; when innocent people are hurt, others are inspired to help; resist violence of any kind; and the universe honors love. Referring to King as "Uncle Martin," Watkins states each principle and then describes one clearly written example of how King followed it. Instances selected include the burning of King's home in 1956 and King's famous "Letter from Birmingham Jail," in which he argued for nonviolent resistance. The bold, colorful mixed-media illustrations capture the emotion of the situations described, and Watkins's writing style is conversational but impassioned ("So even when Uncle Martin was hurt, he did not respond with violence."). Though informative, this title lacks back matter. An excellent choice for younger students studying King and for teachers explaining violence in history and current events, as well as for beginning middle school students.—Stephanie Farnlacher
by Ellie Alldredge-Bell published January, 2015
top image