by Catherine O'Neill Grace and Margaret M. Bruchac With Plimoth Plantation
Published 2001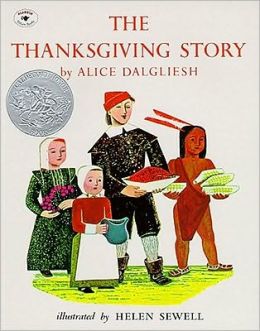 Publisher Synopsis
:
Dagliesh and Sewell received praise for the clarity and immediacy of their picture book, a hit of the season in 1954. Today's children, beginners and advanced readers, will value the story about one family's first Thanksgiving in the Plymouth Colony, strikingly present in stylized, naive pictures like colored etchings. Giles, Constance and Damaris Hopkins are aboard the Mayflower, overcrowded when the Speedwell turns back to England. On the journey, the children's baby brother is born and named Oceanus; he will be one of the smallest in the company of settlers who endure the terrible first year in the New World and gather to celebrate the harvest the next November. The story ends with the great feast to which the colonists invited the Indian chief Massasoit, Squanto and their people who had helped the strangers survive hunger, cold and sickness.
by Kate Waters
Published 2001
text by Robert San Souci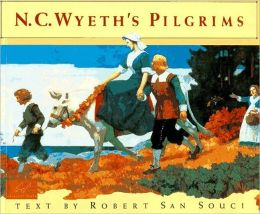 Publisher Synopsis
: The adventurous saga of the settling of the Plymouth Colony is strikingly portrayed in this magnificent book. Spectacular paintings by renowned artist N.C. Wyeth, gloriously bring to life the carefully researched text by well known children's book author Robert San Souci. The story of the Pilgrims, including the first Thanksgiving, is a central part of America's history and, over the course of time, it has taken on an almost mythical quality. Drawing upon a variety of resources, including the author's trip to the Plimouth Plantation, the text dispels some popular misconceptions about the setting of our nation as it broadens our understanding of the bravery and determination of our forebears. A beautiful artbook as well as an informative history book, N.C Wyeth's Pilgrims belongs in every home, library, and classroom.
Synopsis:
Mr. and Mrs. Moose invite all their animal friends for Thanksgiving dinner and the only one missing is Turkey. When they set out to find him, Turkey is quaking with fear because he doesn't realize that his hosts want him at their table, not on it.
My notes
: One of my all-time favorite picture books. So cute! I love Eve Bunting.
by Rhonda Gowler Greene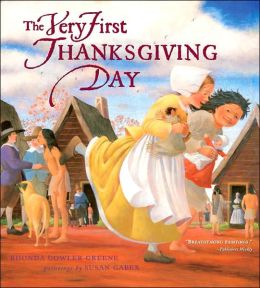 Publisher Synopsis
: The story of the first Thanksgiving celebration, told in cumulative rhyme, introduces young readers to America's most beloved national tradition, which began with a shared feast to rejoice in the bounty of the land, new beginnings, and peace between two societies.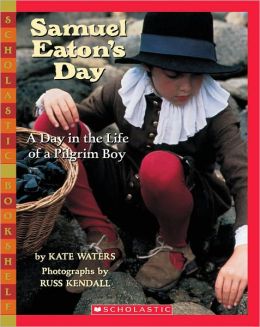 Publisher Synopsis
: Samuel Eaton is a young boy living in an early American settlement in the year 1627, and today is the day he will help with his first rye harvest! If he can prove to his father he's up to the task, he will be able to help with all of the harvest. But harvesting rye is even more difficult than he expected. Was he foolish to think he could do a man's work?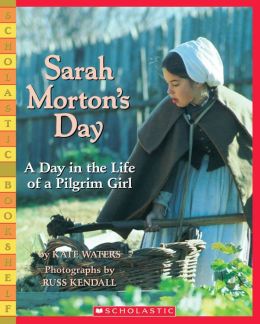 Publisher Synopsis
:
At sunup when the cockerel crows, young Sarah Morton's day begins. Come and join her as she goes about her work and play in an early American settlement in the year 1627.
There's a fire to build, breakfast to cook, chickens to feed, goats to milk, and letters and scripture to learn. Between the chores, there is her best friend, Elizabeth, with whom she shares her hopes and dreams. But Sarah is worried about her new stepfather. Will she ever earn his love and learn to call him father?
by Garnet Jackson
Publisher Synopsis
:
When the Pilgrims landed in New England, many died during the first harsh winter. This easy-to-read story describes the first Thanksgiving celebration and tells how Native Americans helped the Pilgrims through that first difficult year.
by Ann McGovern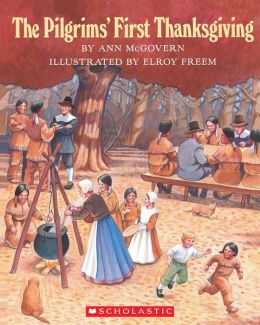 Publisher Synopsis
:
Elroy Freem (the pseudonym of a popular children's book artist) gives this reissue of a favorite story new life. Teachers, parents, and children will give thanks for this easy-to-read, larger format book with lively, full-color illustrations.
This particular book is full of rich details; I feel the above synopsis doesn't do it justice.
by Linda Hayward
Publisher Synopsis
:
Young readers start the familiar story behind our tradition of Thanksgiving Day in England in 1620, when the Pilgrims are setting sail for far-off America, leaving behind friends and safe homes. The reasons for their journey, the trials they endure while at sea, and all of their amazing adventures are detailed in this easy-to-read book.
by Kate Waters
School Library Journal Synopsis
: Photographed on the Mayflower II, a replica of the original ship, this fourth book in an acclaimed series charts the high seas friendship of two young passengers. "Well written, designed, and photographed." —
School Library Journal