In my life this week:
I'm nearly there in experiencing victory over
rebound headaches
! This has been a long-time prayer and I thank the Lord for His wisdom and healing. I'm so excited about this new-found health!
The central air conditioner in our house went out again today, so it wasn't all good this week. Last week it was the circuit breaker, but we checked that first thing this time. We can't afford a new unit so I pray it's something minor. This Momma needs her air; some people do heat well but that's not me.
I can do all things through Christ who strengthens me
. I'll be saying that a lot if we lose our central air!
I'm doing fine washing dishes by hand after last month's dishwasher demise, but I must say, doing dishes in the hottest water you can stand gets very hot in the summer!
Wearing lighter clothes this time of year means less laundry. My whole house is neater and cleaner because of the time freed up. Makes it easier to host and teach a Saturday Children's Bible Study here in our home.
Our friend Dean helped Peter repair one of our bird boxes and now we have a bluebird pair nesting in our yard!
In our homeschool this week:
I'm working my girls hard (ages 4 and 6) now that they sit still longer. We added in regular modeled writing. I use chart paper to write the sentences they dictate, talking about grammar and spelling while I write, eliciting the sounds from them as we sound out the words together. Then, they use a pointer and read the "daily news" back to me. I then copy their sentences onto lined paper and cut them apart between each word, and the girls put them back in order and read their sentence to me, and read the words out of order too.
We added in a second read-aloud session, starting our school day with 5 stories chosen from
Honey For A Child's Heart.
Here are the favorites this week: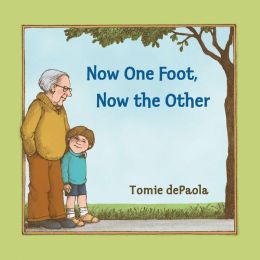 Publisher synopsis
"Bobby was named after his best friend, his grandfather, Bob," begins Tomie dePaola's heartwarming tale of the special relationship between grandchild and grandparent, Now One Foot, Now the Other (1981). The title refers to one of the boy's favorite stories: how Bob taught Bobby to walk. And after Bob has a stroke, it's Bobby's turn to help his grandfather relearn how to walk.
My notes
: The special bond grandfather and grandson share is so heartwarming and the tale itself is woven expertly. I never wanted it to end but it ended grandly! We were all smiles (and Momma was in tears too).
Publisher Synopsis
:
If you are lucky you know someone like the elderly lady in this book. Whenever she sees you--coming home from school, trick-or-treating at Halloween, or walking with your dog in the wood--she makes you feel special. She is someone you admire. She is someone you love.
My notes:
Great for reinforcing seasons, hospitality and kindness.
The girls and I loved this!
Publisher Synopsis:
When a young girl from a poor eastern European village learns that she must leave her beloved grandmother for a new life - and a new love - in America, they both feel that their hearts will break. The sure and inspired narrative by award-winning author Amy Hest is paired with paintings by P.J. Lynch that glow with warmth and carefully observed detail, creating an unforgettable tribute to the immigrant experience.
My notes
: Very special story and a wonderful social studies selection for all ages. I don't know why this didn't win a Caldecott Medal; the paintings are so exquisite. I had to linger on every page...the detail and beauty were so amazing.
Publisher Synopsis
:
Springtime is here, and Zinnia can't wait to plant her seeds and watch them grow. She carefully takes care of her garden, watering her plants, weeding, and waiting patiently for something to sprout. And soon enough, the first seedlings appear! With art just as colorful as a garden in bloom, young readers will enjoy watching Zinnia's beautiful garden grow, and may even be inspired to start one of their own.
Good Reads Synopsis: Zinnia grows many kinds of flowers in her garden. Sunflowers, sweet peas, and (of course) zinnias bloom in the sunshine. Customers come to pick their own bunches of flowers. Bouquet-bright artwork shows all Zinnia's tasks, from planting the seeds to cutting the beautiful blooms. The perfect tie-in to elementary biology units about plant growth-and school gardens-this book will be especially welcomed by teachers. It is a splendid addition to Monica Wellington's nonfiction for the very young and a true spring delight that's good in any season
My notes: A must-read for preschool and lower elementary. What a beautiful, exciting science book!
Publisher Synopsis
:
Apple cider, applesauce, apple muffins, cakes, and pies! Annie is a very busy apple farmer. She bakes yummy treats with the apples she picks and saves her best apples to sell at the market. Follow Annie through her apple-filled day of picking, counting, sorting, baking, and selling, and then try making some of her simple apple recipes.
My notes:
Another outstanding preschool and lower-elementary science pick!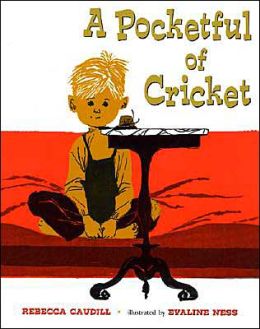 Publisher Synopsis
:
One afternoon late in August, before the start of a new school year, Jay finds Cricket. Cricket fits just right in small spaces--like under a tea strainer or in Jay's very own pocket--and Cricket makes the most exciting sounds. But what happens when it's time to go back to school? Will Cricket come too?
Forty years after its original publication, this charming tale continues to capture the imaginative world of a child.

On his way home with the cows one evening, a six-year-old Kentucky farm boy catches a cricket and makes it his friend. The story reveals a child's sense of wonder about nature in verse-like prose.
Caldecott Honor Book
.
Publisher's Weekly
:
Honoring its 40th anniversary, the Caldecott Honor book, A Pocketful of Cricket by Rebecca Caudill, illus. by Evaline Ness, is back, starring six-year-old Jay who meanders through the countryside and finds striped beans that "felt cool-like morning," an arrowhead and a cricket that he brings home, among other treasures. Caudill's gentle sentences pair well with Ness's charming vintage scenes in mustard, red, avocado and black inks.
My notes:
As a mother of boys and littles, I can definitely say this book captures the wonder of childhood. Excellent nature book we can use to give thanks to God for his glorious gifts. I loved every descriptive word and all four of my kids did too! Outstanding story.
My boys had a great school week too, but in the interest of time I'll be brief about them this time.
Peter, age 11, thanks to the
Teaching Textbooks
math program he's used for 2.5 years, n
ow says he likes math and he thinks he's good at it!
I can't tell you how thankful I am for this program and for my son's new enthusiasm!
Peter's spelling skills, too, have come a long way...so much so that I no longer consider him behind in spelling (or in anything, actually). This year has been one of real blossom. All the reading he's been doing for the last three years has had a great impact on his writing and spelling skills. Nothing helps more than 2 hours of reading a day, which he gets between literature, science and history. We do read-alouds with him on top of that. I like our spelling program,
Avko Sequential Spelling
, but it didn't have half the impact reading itself did.
Helpful homeschooling advice to share:
Don't fret when a child has difficulties.
Pray them through
. Pray for guidance on curriculum choices and
then wait for the Lord, and the books, to do their work
. Cut out worksheets as much as possible
and get them reading.
Places We're Going and People We're Seeing:
The children enjoyed another year of
A Day Out With Thomas the Train
on a strangely cold May day, tickets compliments of the Children's Hospital 4-year-old Beth goes to for Juvenile Rheumatoid Arthritis. The boys also enjoyed two fishing trips with Daddy and our friend Dean. The girls and I went along for one of them and after a couple of hours of fishing we all enjoyed a two-mile hike.
Neither Dean nor my husband care much for fishing, but they're glad to help the boys. I must say, though, it's stressful due to all the problems that occur with the poles. The boys and Mary caught a multitude of 4-inch blue gill, reeling in one right after the other. Peter kept them to fertilize our garden with, which he does every year.
Our friend Dean giving Beth a break from walking.
The two kids next to us weren't catching anything so my boys took them under their wing and gave them worms, baited their hooks and advised them not to reel the line in so often. The little girl then did catch one fish and she was thrilled. Seeing my Peter help her warmed my heart so! Their father wanted to fish himself and he was very impatient with his kids, not wanting to untangle their lines or bait them. It made me appreciate my husband's brand of fathering so much, let me tell you. He's a wonderful Daddy--not perfect, but sacrificial, always putting his children first. Sometimes you have to witness another father in action to gain new appreciation of your husband's family ways.
While at the nature park and pond, few to no mosquitoes, thank the Lord, even though we were on a deeply wooded trail. I keep saying we're having a minor drought here in Northeast Ohio, and the low water level in creeks points to the same. No mosquitoes is nice but it usually means not enough rain in these parts, and conversely, too many mosquitoes means too much rain. Food prices went up after last year's serious drought so I'm hoping for good crops this year.
Peter will enter the children's library photo contest again this year. He turned in fine photos last year but the winner took a picture of a cute pig and it seems all kids--who are the main voters--love pigs. My Peter has it in his mind that to win this contest he
must
have a pig photo. Lo and behold, our friend Erica keeps pigs out at her parent's 32-acre estate. We're all going out there next week to visit the pigs so Peter can take photos. They told us they'd bring the whipped cream because the pigs are hilarious when they get that special treat; Erica and her husband shoot it right into their mouths.
This is their second collection of pigs, and they name them all, so it was disconcerting to hear them talk about how good the bacon was from their last collection. Don't ask me how you can name a pig and have fun with it, and then talk about how good its bacon was, but whatever, we love this family. I want to live on a farm alright, but I don't want to kill any animals or think about them going to slaughter. Silly, I know.
Tomorrow the boys will take part in a kids' fishing derby contest at our favorite nature park. Three hours of untangling lines and such; my husband is a saint.
My Favorite Thing This Week:
Our nature hike last Sunday. So special to be all together, exploring and exercising.
My Kiddos Favorite Thing This Week:
The water balloons they played with in the backyard today.
Things I'm Working On

:
I'm studying humility in my quiet time and really enjoying that. Peter is working on the garden and I hope to help him finish up this weekend.
I'm Cooking:
So far this week for dinner: crockpot porkribs, turkey sloppy joes, turkey burgers, spaghetti, crockpot whole chicken. We filled the propane tank today so grilling is next!
I'm Grateful For:
My Lord, my husband, my children, our friends, our garden, the healing power of prayer, family devotions in Isaiah, flowers, birds, hiking trails, pretty ponds, sweet kids
I'm praying about
:
Our 11-year-old neighborhood friend, Lexie, repeated the fourth grade this year and still earned D's and F's. I'm praying about having her come every day in the summer to use our 4th grade Teaching Textbooks CD Rom. I know it would help her and staying a couple hours for school with us would too. But, she is high maintenance; her ADHD makes her jump from one activity to another like the
If You Give a Mouse a Cookie
book series. My son Peter doesn't have this same type of ADHD--he's not inattentive, just hyper and impulsive. She's an exhausting guest but I love her and want to help her, but part of me is screaming "
NO way! I can't do it!"
I plan on praying another week before mentioning it to her. She's said many times she wishes I could homeschool her--not to improve her grades, but because she gets bullied at school.
Homeschoolers or not, we all need to pray for the nation's youngsters; bullying is a complicated, heartwrenching problem.
Poem to Share (for upcoming Father's Day):
A Father's Prayer
Lord, make me tolerant and wise;
Incline my ears to hear him through;
Let him not stand with downcast eyes,
Fearing to trust me and be true.
Instruct me so that I may know
The way my son and I should go.
When he shall err, as once did I,
Or boyhood folly bids him stray,
Let me not into anger fly
And drive the good in him away.
Teach me to win his trust, that he
Shall keep no secret hid from me.
Lord, strengthen me that I may be .
A fit example for my son.
Grant he may never hear or see
A shameful deed that I have done.
However sorely I am tried,
Let me not undermine his pride.
In spite of years and temples gray,
Still let my spirit beat with joy;
Teach me to share in all his play
And be a comrade with my boy.
Wherever we may chance to be,
Let him find happiness with me.
Lord, as his father, now I pray
For manhood's strength and counsel wise;
Let me deal justly, day by day,
In all that fatherhood implies.
To be his father, keep me fit;
Let me not play the hypocrite!
Edgar Albert Guest
Have a blessed week, friends!
top image