More to come....
The Christmas Miracle of Jonathan Toomey
by Susan Wojciechowski
Synopsis by Booklist
:
"Christmas is pish-posh," grumbles Jonathan Toomey, the best wood carver in the valley. He's a Scroogelike recluse; but he's a gentle grouch, it turns out, and he hides a sad secret. He's transformed, not by Dickensian ghosts, but by an eager seven-year-old boy and his widowed mother who ask him to make them a Christmas creche. The story verges on the sentimental, but it's told with feeling and lyricism (he "traveled till his tears stopped" ). Lynch's sweeping illustrations, in shades of wood grain, are both realistic and gloriously romantic, focusing on faces and hands at work before the fire and in the lamplight. In a beautiful, elemental scene, the angry wood carver stands on the threshold of his home, disturbed by the gentle widow and her son who want his help and will transform his life. (text copyright 1995)
My Notes: Yes, I shared this book last year, too. I do not write either book or product reviews because it would take time I don't have to develop skill at writing them, but hear me when I tell you, you must have this book on your shelf every Christmas, okay? It has heart, humor, love, gentleness, bitterness, patience, self-control, sorrow, grief, healing, transformation, and joy, all wrapped up in a delicate, beautifully woven tale that will keep you coming back for more, Christmas after Christmas, and then some. Don't leave December without it!
Shooting At The Stars: The Christmas Truce of 1914 by John Hendrix
Copyright 2014
Synopsis
:
Shooting at the Stars is the moving story of a young British soldier on the front lines during World War I who experiences an unforgettable Christmas Eve. In a letter home to his mother, he describes how, despite fierce fighting earlier from both sides, Allied and German soldiers ceased firing and came together on the battlefield to celebrate the holiday. They sang carols, exchanged gifts, and even lit Christmas trees. But as the holiday came to a close, they returned to their separate trenches to await orders for the war to begin again.

John Hendrix wonderfully brings this story to life, interweaving fact and fiction along with his detailed illustrations and hand-lettered text. His story celebrates the humanity and kindness that can persist even during the darkest periods of our history. Back matter includes a glossary, additional information about World War I and the Christmas Truce and its aftermath, and an archival photograph taken during the Truce.
About the Author: John Hendrix's books include John Brown: His Fight for Freedom, a Publishers Weekly Best Book and New York Public Library Top 100 Book, and Nurse, Soldier, Spy, by Marissa Moss, which received a Eureka! Children's Book Award and Booklist Editor's Choice Award. He lives in St. Louis, Missouri.
My Notes: The writer is a pacifist, which I gathered from his introduction, but regardless of whether you think World War 1 was necessary or not, this book is beautifully done, humanizing both sides and illustrating what Christmas is truly about--hope and love. It's a wonderful history lesson as well as a worthy Christmas story, for children 6 and above, (some might say 2nd grade and above). The text was engaging, and not too wordy or too long for my six year old.
The Legend of the Candy Cane by Lori Walburg, Copyright 1997
Synopsis: Amazon.com Review For those who cringe at the creeping materialism surrounding Christmas, a pious story about the origins of the candy cane is definitely a change of pace. A stranger arrives in town one dreary November and begins hammering and sawing away at his newly rented storefront. When a small girl offers her help, she's in for a childhood fantasy-come-true, as it turns out all the shelves and counters are being built for a candy shop. After offering young Lucy gumdrops and lollipops, Mr. Sonneman launches into the history of the candy cane. With his guidance, she discovers that the upturned candy is in the shape of a j--for Jesus. Right side up it looks like a shepherd's staff. And the red stripes? The blood of Christ from his terrible whipping. Lucy and Mr. Sonneman set out on a quest to share this story with everyone in town. Their message (and their gift of the pepperminty red-and-white sticks) brings the whole town together in a joyful celebration of Christmas (and candy).

James Bernardin's old-timey acrylic and colored pencil illustrations are reminiscent of Norman Rockwell, but depict both modern and biblical times. Candy canes will never taste quite the same again. (Ages 6 to 9) --Emilie Coulter
My Notes: My library only had a shorter, board-book version of this story available this year, but it's beautiful, wholesome, and powerful. A well-told story worthy of your Christmas celebrations every year.
An Amish Christmas by Richard Ammon Copyright 1996
Synopsis:
There is excitement in the air on Christmas Eve day at Maple Hill School and it is hard for the young scholars to pay attention to lessons. That afternoon parents and young brothers and sisters will pull up in their horse-drawn buggies to celebrate the season with student skits, poems, and a Christmas carol sing. Christmas Eve in Amish Country also means the usual round of chores, feeding the animals, and milking the cows and cleaning the stalls. But a dusting of snow makes the evening magical.
Two days of Christmas are celebrated by the Amish in their own special ways. There are always the chores, but there is also simple gift giving, in the spirit of the wisemen. There are visits to relatives by horse and sleigh, big family dinners, and the fun of getting together with cousins and friends to sled, build snowmen, and ice skate.
All too soon, the holiday is over, and Amish youngsters return to school filled with memories of two days overflowing with family and fun.
My Notes
: This book is not a story, but an accounting of how the Amish typically spend Christmas. It's a cultural lesson mostly, but the non-materialistic view of Christmas is valuable and could spark great conversation about how to keep Christmas meaningful and simple. Each member of the Amish family receives just one gift, for example. The book doesn't glorify the Amish lifestyle, but instead, just portrays it sensibly and respectfully.
Great Joy by Kate DiCamillo, Copyright 2007
(and a newer, 2010 version with a different cover than pictured below)
Synopsis
:
It is just before Christmas when an organ grinder and monkey appear on the street outside Frances's apartment. When it's quiet she can hear their music, and when she looks out her window at midnight, she sees them sleeping outside. Finally the day of the Christmas pageant arrives, but when it's Frances's turn to speak, all she can think about is the organ grinder's sad eyes — until a door opens just in time, and she finds the perfect words to share. With this luminous tale, Kate DiCamillo pairs with Bagram Ibatoulline to offer a timeless holiday gift.
About the Author & Illustrator
:

Kate DiCamillo is the author of The Magician's Elephant, a New York Times bestseller; The Tale of Despereaux, which was awarded the Newbery Medal; Because of Winn-Dixie, a Newbery Honor book; and six books starring Mercy Watson, including the Theodor Seuss Geisel Honor Book Mercy Watson Goes for a Ride. She lives in Minneapolis.

Bagram Ibatoulline has illustrated many acclaimed books for children, including Thumbelina, retold by Brian Alderson; The Miraculous Journey of Edward Tulane and Great Joy, both by Kate DiCamillo; The Animal Hedge by Paul Fleischman; Hans Christian Andersen's The Tinderbox and The Nightingale, both retold by Stephen Mitchell; The Serpent Came to Gloucester by M. T. Anderson; and Hana in the Time of the Tulips by Deborah Noyes. He lives in Pennsylvania.
My Notes
: A meaningful tale about the danger of forgetting the least of God's people, like the beggars on the streets or the orphans. A little girl, unlike her mother, is not willing to look away and pretend there aren't people who are cold and hungry on Christmas Eve, and everyday. Her simple child-like love, simple reaching out, are priceless and
inspiring
. This one is a must-have,
Christmas Tapestry by Patricia Polacco
Synopsis:
Polacco's (The Keeping Quilt) knack for spinning seemingly disparate characters and plot elements into personal yarns works to great effect in this holiday picture book, based on a "true story" told as a church homily. Jonathan resents his Baptist preacher father's reassignment from Memphis to a dilapidated church in Detroit, and he's dismayed when damage from a blizzard ruins months of planning to restore the building in time for Christmas Eve services. But the elegant-looking, bargain-priced tapestry he and his dad purchase to cover the damage miraculously brings about the reunion of an elderly Jewish couple separated decades earlier during the Holocaust. Though the tale slows in spots, Polacco's signature illustrations of swirling snow, the fine tapestry and numerous love-filled faces invite readers to linger. All ages. (Copyright 2002)
My notes: I love most of Patricia Polacco's work, and this didn't disappoint; it was a pleasure to read to my family. The children loved it! The coincidental events of the tale are a bit hard to believe, but an author's note indicates Patricia heard the story in two different religious settings, and adapted it to fit young readers, changing the setting to her home state of Michigan.
An Orange for Frankie by Patricia Polacco
Synopsis:
The Stowell family is abuzz with holiday excitement, and Frankie, the youngest boy, is the most excited of all. But there's a cloud over the joyous season: Tomorrow is Christmas Eve, and Pa hasn't returned yet from his trip to Lansing. He promised to bring back the oranges for the mantelpiece. Every year there are nine of them nestled among the evergreens, one for each of the children. But this year, heavy snows might mean no oranges . . . and, worse, no Pa!
This is a holiday story close to Patricia Polacco's heart. Frankie was her grandmother's youngest brother, and every year she and her family remember this tale of a little boy who learned--and taught--an important lesson about giving, one Christmas long ago. (copyright 2004)
My Notes: This quickly became a classic in our house last year, and will reappear every Christmas. Just a beautiful story of giving and love and family cohesiveness. Don't leave December without it. A keeper and a sure favorite!
Just Right for Christmas by Birdie Black and Rosalind Beardshaw
Synopsis from Booklist:
One Christmas Eve, a king purchases a bolt of cloth from an outdoor market: "That cloth is so red and soft and Christmassy!" Perfect, in fact, to make a cloak for the princess. What the king does not expect, though, is that the leftover scraps from the cloth, set outside the back door, hold an equal appeal for others. Before night falls, the castle's kitchen maid finds the scraps and sews a jacket for her ma; a badger makes a hat for his pa; a squirrel sews gloves for his wife; and a mouse creates a scarf for her son. With its catchy repetitive phrases, this book is perfect for the preschool child or emergent reader, who can anticipate what will come next. The endearing mixed-media illustrations, often arranged on the page within a simple sewing pattern, effectively capture the joy of the season. The warm message of the closeness of family pervades both text and pictures, and the final two-page spread brings all the inhabitants together, ice-skating in their brand-new finery—a lovely communal touch. Preschool-Grade 1.
(Copyright 2012)
My Notes
: This story tickled me so! My girls too--so much so we had to close the book and start all over right away, it was so delicious! Loved the small
repetitive
part that my girls could join in on. Fun from start to
finish, and I think the grade level could go beyond grade 1 easily. Even a fourth grader would smile at this
.
The Legend of the Christmas Stocking: The Inspirational Story of a Wish Come True by Rick Osborne
Synopsis:
This wonderful Christmas tale, set in the late 1800s, shares the touching story of a young boy named Peter. He sells newspapers to help his family while his father is away at sea, and he's been saving a bit of his earnings to buy a model schooner in the woodworker's shop. But after Uncle Jim, the woodworker, tells him the story of St. Nicholas, Peter discovers the meaning behind the hanging and filling of Christmas stockings and learns a heartfelt lesson in kindness and generosity. Filled with the rich, realistic illustrations of Jim Griffin, children ages 4 to 8 will discover the depth of God's love shown through others as they learn the Christian meaning revealed in The Legend of the Christmas Stocking. Through imaginative and innovative products, Zonderkidz is feeding young souls. (copyright 2004)
My Notes
: When I looked at the author's name, and saw the ZonderKids label, I thought...is that
the
Rick Osborne
--author of a million and one Christian discipleship books for children? Yes, it is. This is a wonderful book too. My children were
mesmerized
by the legend of the Christmas stocking, and Peter's story is very touching and teaches self-sacrifice, hard work, and family responsibility.
A Little Women Christmas by Heather Vogel Frederick (New in 2014)
Synopsis:

A cherished holiday scene from a beloved classic comes to life in this festive, cozy picture book homage to

Little Women

.
It's almost Christmas, and Jo March is determined that this year, unlike the last, there will be presents. It is in this spirit that she and her dear friend Laurie build a snow maiden for poor, sick Beth. The next day, Beth is thrilled with her present, and each of the girls, in turn, receives a little something from the others. But the best gift of all arrives when Papa, who has been away at war and ill, makes a surprise return home for Christmas dinner.
With a timeless message of goodwill and giving and stunning painted artwork,
A Little Women Christmas
makes a perfect gift for fans of Louisa May Alcott's literary treasure as well as for anyone who appreciates the true meaning of Christmas. (copyright 2014)
My Notes
: I was so excited to see this in the new book section! The paintings are beautiful and it really feels like a holiday chapter out of
Little Women
(with simpler prose). It's a short read so your little ones won't be
antsy, but f
or Little Women fans it will feel too short.
Christmas Tree Farm by Ann Purmell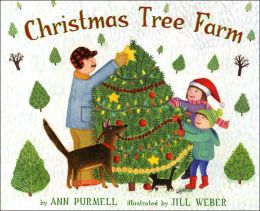 School Library Journal Synopsis
:
A boy tells how his family's Christmas tree farm requires yearlong work, from planting seedlings to weeding, pruning, measuring, cutting, and baling. Energetic, naive gouache-and-acrylic illustrations accompany the narrative, which will give children an inside look at the workings of a family-owned business.
My Notes
: This is an enjoyable book that will give your primary science curriculum a decidedly Christmasy flare.
Christmas Farm by Mary Lyn Ray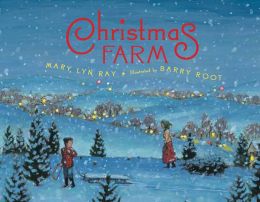 "This lovely tale celebrates inter-generational friendship and determination, growth and nature, and the joy of the holiday season." —School Library Journal
Publisher Synopsis:
When Wilma decides her garden needs a new beginning, she gathers string, scissors, shovels, sixty-two dozen balsam seedlings, and Parker, her five-year-old neighbor. Year after year, Wilma and Parker nurture their trees, keeping careful count of how many they plant, how many perish, and how many grow to become fine, full Christmas trees. A cozy, holiday read-aloud and a lyrical way to usher in the month of December.
My Notes
: I found these illustrations quite charming and the story equally so. A nice one to add to your shelf this month.
The Money We'll Save by Brock Cole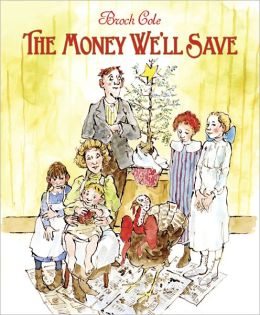 Publisher Synopsis
:
When Pa brings a turkey poult home to fatten for Christmas dinner, he assures Ma that it will be no trouble since it can live in a box by the stove and eat table scraps—and just think of the money we'll save! But it's not quite so simple to raise a turkey in a tiny flat in a nineteenth-century New York City tenement. Can Pa and the children manage the willful and growing Alfred and keep the neighbors happy until Christmas? Pa finds a solution for every difficulty—until he encounters one that threatens to ruin Christmas completely. How the family joins together to solve this last difficulty makes for a very funny and satisfying holiday story.
My Notes
: This story is fun, fun, fun! Sit the whole family down for some laughs.
The Twelve Days of Christmas by Jane Ray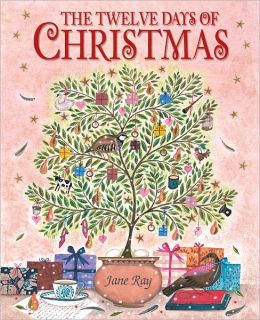 Publisher overview:
With luminous artwork full of elaborate detail, the acclaimed Jane Ray brings new life to a classic holiday song.
In this lushly illustrated interpretation of the familiar Christmas carol, each spread offers surprises for the eye as nostalgic city scenes depict a multiethnic cast of characters bustling with packages and sprucing up their homes for the holidays. But at one home in particular, an endless succession of gifts keeps arriving: birds of all stripes, ladies dancing aboard a brightly bedecked boat, lords leaping on rooftops, and pipers piping up and down stairs. Filled with intricate patterns and whimsical flourishes, Jane Ray's gorgeous artwork is the perfect match for this wonderfully cumulative tale.
My Notes:
Delightful illustrations in this book (features the traditional carol).
The Story of Holly & Ivy by Rumer Godden, illustrated by Barbara Cooney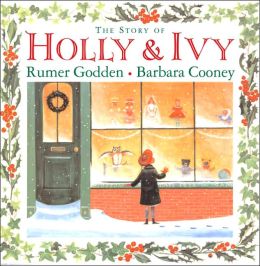 Publisher Overview
:
Ivy, Holly, and Mr. and Mrs. Jones all have one Christmas wish. Ivy, an orphan, wishes for a real home and sets out in search of the grandmother she's sure she can find. Holly, a doll, wishes for a child to bring her to life. And the Joneses wish more than anything for a son or daughter to share their holiday. Can all three wishes come true? This festive tale is perfectly complemented by beloved Barbara Cooney's luminous illustrations, filled with the warm glow of the Christmas spirit.
Orphaned Ivy finds her Christmas wish fulfilled with the help of a lonely couple and a doll named Holly.
My Notes:
These two women are among my favorites in children's literature. I loved this beautiful story, but it's long and you'll need a couple days to get through it with the youngest ones.
The Peterkins' Christmas
adapted by Elizabeth Spurr, illustrated by Wendy Anderson Halperin.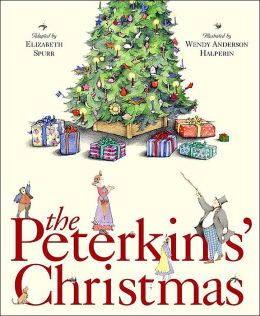 Publisher Overview
:
Meet the Peterkins.
There's Mr. and Mrs. Peterkin, Agamemnon, Solomon John, Eliza-beth Eliza, and the three Little Boys (who everyone forgot to name when they were born).
The Peterkins love a good surprise almost as much as they love Christmas-time, and this year is no different as they try to surprise the Little Boys with their tallest Christmas tree ever. All their secret plans go awry, though, when they realize that their special tree is too big to fit in the house! How will they save Christmas?
The Peterkins were first introduced to delighted children everywhere more than one hundred and twenty years ago when Lucretia Hale wrote The Peterkin Papers. Adapted from that timeless children's classic, The Peterkins' Christmas is a charming holiday tale that will thrill readers of all ages.
My Notes:
This is a comedy. A hoot from horse and buggy days. Fun! And once again, I love the illustrations!
The Gift by Aliana Brodmann
Publisher Synopsis
:
With her Hanukkah money in her pocket, a little girl eagerly sets out to find the perfect way to spend her treasure. Will she choose a fancy hat? A new doll? A soft, gray kitten? Nothing seems just right until she hears a lovely melody from a street musician's accordion. Suddenly she knows what to do with her gift -- and in giving from her heart she receives the best gift of all.
My Notes:
A
Hanukkah story but about dying to ourselves to care for the least of these, and how that is gift itself to the giver's heart.
Ben's Christmas Carol by Toby Forward, Illustrated by Ruth Brown
Publisher Synopsis:
Toby Forward and Ruth Brown have collaborated on a wonderfully original story about the mice who live beneath the floorboards of a great London mansion, the home of Ebenezer Scrooge. It's Christmas Eve, but a miserly mouse named Ben feels no special cheer. For him, Christmas is just another day. After an unexpected visitor takes him on a ghostly tour of London, the awed creature decides he'll never be mean again. Full color.
My Notes
: A nice, imaginative remake of
A Christmas Carol.
Christmas Soup by Alice Faye Duncan and Phyllis Dooley (Copyright 2005)
Synopsis
:
A zonderkidz book,
not readily available. Look for it in the holiday section of your library. Very touching. Every year the Beene family dreams of a Christmas feast, but every year they get the same old watery soup. The true meaning of Christmas is revealed in this touching picture book with poignant illustrations by Jan Spivey Gilchrist. While Mama is making the traditional Christmas soup her children wish for more. When Baby Fannie prays 'Bless our home with something more'--- and that 'more' turns out to be two hungry strangers to feed, it seems as if things can't get much worse. But the soup---a true feast for the hungry pair---is shared, and the Beene children learn a lesson about giving they won't soon forget. This tender story is sure to become a Christmas classic!
Apple Tree Christmas
by Trinka Hakes Noble (copyright 1984 - new edition 2005)
Good Reads Reader Synopsis
(first featured - Shanna Gonzalez):
The Ansterbergs live in the end of their old barn which they share with their animals, and they look forward to the time when Papa will be able to build them a real house. Every Fall they harvest the apples from their old apple tree, and then the tree is free for the two girls to play. One makes a swing out of the vine which wraps around the trunk and branches; the other makes a drawing "studio" out of a broad limb. In the days filled with hard work and chores, the tree provides a great deal of joy to the children. But one night a blizzard destroys the tree, and for two weeks before Christmas the barn is filled with the sounds of Papa sawing the tree up into firewood. The girls are so distracted by grief that they are barely able to prepare their homemade Christmas gifts for the family. Even on Christmas Eve, he stays up late into the night, sawing. On Christmas morning Papa unveils their presents: a section of vine, nailed to the overhead beam, with homemade rag doll astride, and a drawing board affixed to the rescued "studio" limb, adorned with real paper and willow charcoal. The second child draws a picture to commemorate these events in 1881, and it stays on the family's wall for many years.
This book is exceptional in many ways: the drawings are skillfully evocative, and the text is just right in its level of descriptive detail and emotion. The story compellingly draws its audience in to share the girls' fear as they huddle under the table listening to ice strike their roof, watching Mama feed the fire that keeps the cold at bay. And listeners are disappointed along with the girls when their favorite place to play is destroyed. When the children's joy is restored due through the generous love of their parents, the effect is of a deeply joyful experience of a strong family which chooses to embrace love, hard work, and determination in the face of significant challenges. It's an outstanding addition to the Christmas basket.
My Notes: While this is out of print, your library may have it if it keeps a holiday section. It is worth looking for. A real classic! My girls and I all loved it and wanted more!
Gifts of the Heart by Patricia Polacco (Copyright 2013)
Synopsis: Beloved author-illustrator Patricia Polacco's holiday story is a wonderful ode to the magic of family, Christmas, and giving the right kind of gifts—gifts filled with love.

Richie and Trisha want to buy Christmas gifts for their family, but they don't have enough money. Enter Kay Lamity, a new housekeeper . . . but is that all she is? She comes into their lives like a whirlwind, brimming with positive energy and a can-do attitude. Kay not only straightens them out when it comes to whether or not Santa Claus is real, she teaches them something about gifts: the just-good-enough kind that come from the pocketbook and the unforgettable kind that come from the heart. Because of Kay, Trisha and Richie—and the family—have a Christmas morning they will never forget.

Celebrating the joy of homemade gifts, Patricia Polacco introduces readers to a new character who is truly a force of nature in this story reminiscent of Christmas Tapestry and An Orange for Frankie. This is a magical Christmas story the author swears is true, right down to the sleigh tracks on the farmhouse roof!

My Notes: I loved this heartwarming, well-told story, and although it tries to affirm a childhood belief in Santa (not the focal point, however), I didn't have a problem with that, even though we don't do Santa in our home. We want our children to believe in the power and omniscience of God, and assign such traits to no other entity. We tell them that Santa is from a pleasant story, derived from the kindness and goodness of a true St. Nicholas, but stolen by commercialism. Though we want them to know the truth, we don't ban Santa movies or stories. This book is worthy of your family time. We loved it!
Listen to the Silent Night by Dandi Daley Mackall
Copyright 2011
Synopsis
: It was not such a silent night when Baby Jesus was born. From the baa, baa, baa of sheep to the flut-flut-flutter of angel wings, it was actually quite noisy! Here, from CBA bestseller Dandi Daley Mackall, is the story of the first Christmas, using the sounds of that miraculous night to really bring the story to life. With rich, gorgeous paintings by Steve Johnson and Lou Fancher, this reverent retelling of the nativity is sure to become an essential part of every Christmas collection.
My notes
: Beautiful paintings to linger over on each page, and it is truly is a reverent retelling of the Christmas story in engaging rhyme for all ages. A short one; five lines of rhyme per page.
How Many Miles to Bethlehem? by Kevin Crossley-Holland
Copyright 2004
Synopsis:
Two modern masters illuminate the Nativity story, creating a sumptuous gift book for families to cherish. Mary, great with child. The lively donkey. The dignified wise men. The glorious angels. All the beloved figures of the nativity story are given new life by acclaimed poet and novelist Kevin Crossley-Holland, who links their tales into a chain of voices revealing the miracle and meaning of Christmas. Peter Malone's illustrations glow with the same majestic grace. This is a book for art lovers to admire, poets to praise, and families to read together and treasure.
My notes: Really beautiful book; short, with few lines per page, but meaningful words, all of them. A unique retelling of the Nativity, indeed. My favorite lines are the last page: I am the Light of Light. The baby who will cradle the world. In your heart, hold me. I will never leave you.
Christmas in the Stable by Astrid Lindgren
Synopsis:
As a young girl listens to her mother tell the story of the first Christmas, where else would she imagine the miracle taking place but in the stable and fields she knows so well? "Simple loving text and radiantly beautiful pictures in rich colors by Sweden's foremost painter of animals and nature." -- Chicago
Tribune
"A reverent and lovely Christmas picture book." --
The Horn Book
My notes
: Love this book! So gentle, soothing, so loving. You recognize the name Astrid Lindgren, of Pippi Longstocking fame? Yes, same author. A keeper, but possibly hard to find unless your library keeps a Christmas section.
Little One, We Knew You'd Come by Sally Lloyd-Jones
Copyright 2006
Synopsis:
"... Lloyd-Jones's soothing, lyrical text expresses the universal love felt by parents awaiting the arrival of a new addition to the family. Numerous intimate portraits of the Holy Family, surrounded by realistic renderings of tranquil animals make this a fine volume for sharing. The gentle rhyming verses here may invite introductory discussion of not only the Nativity, but the joyous miracle of birth anytime of year." --
Publishers Weekly
"A brief, poetic text and stunning illustrations flow together with magically successful pacing in this exquisite retelling of the Nativity story... Though this is a Nativity story, its message of awe and transcendent love will also touch new parents welcoming their own babies or expectant parents awaiting a miracle child of their own." --
Kirkus
"the words are a litany of celebration and praise for the miracle of birth-and especially the birth of the Christ Child born in the manger long ago. But... [the words] can be said to any child, at Christmas or on a birthday. This is an absolutely gorgeous book. The illustrations... the gold inlays on each page make the pictures seem like illuminated manuscripts. Sacred pages for a holy Babe, for our holy children, the ones we love. I also celebrate the meaning behind `We Knew You'd Come.' Some things our hearts know, and have always known. What a divine gift this book is for us all." --
ChinaBerry
The Christmas Cobwebs
by Odds Bodkin
A poor shoemaker and his family move from Germany to Chicago with only a box of glittering glass ornaments. But when a tragic fire destroys their new house and shop, the family has to move into an abandoned shack, with cobwebs dangling from the rafters. Soon the shoemaker must sell his family's cherished decorations. But on Christmas morning, they all awaken to a shimmering surprise hanging from their tree.Spun by the Christmas spirit, a wonderful magic weaves throughout this holiday tale.
Booklist Review
: In this poignant Christmas story set in "old Chicago," a "humble cobbler" and his family anticipate Christmas by admiring the one memento they saved from their old home in Germany--a box of beautiful glass ornaments. When a fire burns the cobbler's shop and home, the cobbler rescues only the box of ornaments, taking it with him when he resettles the family in a cobweb-strewn shack. Everyone tries to prepare for Christmas, but the cobbler must sell the ornaments to support the family, leaving the tree bare. The shack's story takes a magical turn when the spiders living in the shack weave beautiful decorations onto the tree, surprising and delighting the displaced family. The simple, well-written text is perfectly paced for quiet story hours, and the stylized, nicely composed paintings echo all the emotional drama. Children who have experienced or can imagine leaving behind the security of their own warm homes will connect with this moving offering, and parents will appreciate the message about materialism. Great for family read-alouds.
My Notes: This is one of my Mary's all-time favorite picture books; she checks it out numerous times per year. Tonight when I finished it for umpteenth time, she leaned back dreamily and said, "Mommy, I just love that book. It inspires me." When I asked why, she said it's because they didn't have anything and yet they were really happy. She continued: "They didn't blame God or complain about what happened to them. They just started over and they were happy (content) with their love."
So there you have it. A very nice synopsis of this book.
A Cowboy Christmas: The Miracle at Lone Pine Ridge by Audrey Wood
Copyright 2001
Synopsis
: From Publisher's Weekly:
When Evan, a fatherless boy, senses danger one Christmas Eve, his prayers help save his favorite cowboy, Cully, from a chilly death. They also set in motion a chain of happy events for Evan and his ma. The somewhat overwrought tale is nonetheless fluidly told, and Florczak's (previously teamed with Wood for The Rainbow Bridge) realistic oil paintings, aglow with light and shadow, make ample use of the Western setting. Scenes of cowboys camped around a fire inject a dose of humor, while stunning paintings of Cully's riderless horse on a snowy cliff and Evan's mother strolling with Cully under leafy birch trees convey the dramatic events. All ages.
My Notes: This may have minor flaws, as recounted in a couple Amazon reviews, but I enjoyed it very much and cried at the end. The paintings are gorgeous. Publisher's Weekly called it "somewhat overwrought". Huh? Is a sentimental book a crime? I love me some sentiment. The world is too harsh, busy, crazy. When I sit down with my kids, I want something meaningful, appreciative, warm and wholesome. If I ever write a book for children, I'm sure it too will be tagged as "overwrought".
An author's note provides historical information about cowboys, including that they rarely survived beyond the age of thirty due to the dangerous lifestyle. Audrey Wood researched the life and times of American
women
pioneers of the West, by reading diaries and journals from the period. The author writes: "
A Cowboy Christmas
is a tribute to the courage and
faith
of the men, women, and children who braved the many hardships of the frontier West."
Rocking Horse Christmas by Mary Pope Osborne
Synopsis
:
Kindergarten-Grade 3. A story that's as rich in the spirit of Christmas as it is spare in its choice of words. Thrilled with his present of a rocking horse, a boy takes all sorts of wonderful imaginary trips. As he grows up he moves on to other interests. Meanwhile, the horse laments his playmate's absence. Finally, it is relegated to the attic. Years later, a small boy discovers the horse with delight. For this had been his father's horse, his "oldest friend in the world." And soon this new boy and the old horse gallop away to their own adventures. Bittinger's oil paintings on linen are rich in palette and detail. The cover and the title-page illustrations showing Santa making and delivering the horse might well go unnoticed, but they are intrinsic to this story and so much a part of its charm. The scenes where the boy's imaginative play surrounds him with cowboys, knights, race horses, and jungle animals are so alive with motion and energy that they fairly leap off the page. The unnamed youngster could be any boy and this horse could be any toy, any treasure, that enables a child to become an adult made richer by memories and imagination. The theme of toys outgrown and put aside but not forgotten is so well-done here that it will strike a chord with many children.
My Notes
: Very well done. A well-paced, vivid, imaginative story. Makes a parent smile, thinking of all the ways little ones use their toys and how real and
vivid
the adventures are to the children. A toy ceases to be a toy and becomes "real" like in The Velveteen Rabbit. This reminded me of the magic of The Velveteen Rabbit. Okay, yes, I think I did cry at the end, but that's nothing new around here. My kids would be shocked if Mommy didn't cry during 60% of picture books.
My Prairie Christmas by Brett Harvey
Synopsis
:
Once again, and with great success, Harvey mines the grandmother lode as she did in My Prairie Year (Holiday , 1986). Two days before Christmas, Elenore Plaisted's father goes out to find a tree and does not return. On Christmas morning, Mother leads the children out into the deep snow to chop down a cottonwood. Just as they finish decorating it, Papa bursts in, explaining that he had been trapped in town by a blizzard. The joyous celebration is followed by a snow walk under the star-filled prairie sky. The story moves readers through an emotional spectrum from contentment, to the dread in waiting, to the relief and rejoicing. Ray's full-color watercolors with colored-pencil illustrations are warm and simple, perfectly suiting the Plaisteds' family life. Children who have read the Christmas barrel chapters from Laura Ingalls Wilder's The Long Winter (1953) or Patricia MacLachlan's Sarah, Plain and Tall (1985, both Harper) will nod in recognition at this bit of American history. A beautiful addition to holiday shelves that will serve all year long in American history sections.
My Notes: I really enjoyed the quaint pictures of
prairie
and family life. Made my girls and I warm and happy to read this and take in the wholesomeness of the whole scene, with the handmade decorations for the tree, the handmade presents, and the Christmas barrel, with its flour and sugar, enabling the family to bake some Christmas goodies, which they couldn't do before Pa brought the Christmas barrel laden with presents from Maine. Like the synopsis above indicated, it reminded me of a Little House on the
Prairie
Christmas.
Silver Packages: An Appalachian Christmas Story by Cynthia Rylant
School Library Journal Synopsis
:
Grade 1-4. Full-page watercolor paintings decorate this warm, sentimental story loosely based on actual events. Rylant traces the origins of an Appalachian "Christmas Train" that travels through the mountains each year on December 23 to a rich man who wished to repay a debt of kindness he had received many years before. He faithfully returns and tosses silver packages from the caboose to the coal-town children who wait by the tracks. One such child is Frankie, who longs for a doctor's kit every year; instead he gets much-needed socks or mittens along with small toys. As an adult, he moves back to the town to live and work, having fulfilled his dream of becoming a doctor. With her clear, balanced, and well-paced storyteller's voice, the author builds the anticipation and excitement that the children?and especially Frankie?feel at the train's annual arrival. Although the heroic profile of this child-turned-man makes him more of a symbol than a real person, his story is capably told. The illustrations provide panoramic views of the Appalachian countryside, with deep nighttime blues and wintry colors, strengthening the sense of place. A well-rendered reflection on the importance of giving and sharing.
My Notes: Should be a classic in every home with children. Very meaningful, about giving back to our communities. Told beautifully from two perspectives, that of giving and receiving, demonstrating the blessing of each.
Santa Claus and the Three Bears by Maria Modugno
Copyright 2013
Synopsis
:
Papa Bear, Mama Bear, and Baby Bear weren't expecting any company when they went for a walk on Christmas Eve, but that's exactly what they got! Debut author Maria Modugno teams up with award-winning artists Jane and Brooke Dyer to deliver a festive twist on Goldilocks and the Three Bears, with Santa Claus stepping in as the cheerful intruder.

Leaving their pudding to cool on the kitchen table, the unsuspecting bears head outdoors for a crisp evening walk. But when they return, they are shocked at what they find! Their pudding . . . eaten! Their chairs . . . broken! Their cozy beds . . . slept in! And it looks like the culprit is still there! Fast asleep in Baby Bear's bed is someone awfully familiar. A fluffy white beard, a red jacket covered in soot, and two black boots sticking out from under the covers. Could it reallybe . . . ?

With sparkling prose and splendid watercolor paintings, this delicious holiday treat glows with warmth and humor that will delight readers page after page.
My Notes: Very sweet illustrations. We loved it, but then we're fans of most Three Bears renditions.