In my life this week…
My son passed me his strep throat infection, so it's been a week of ibuprofen, and today I started on an antibiotic. As long as I don't let the ibuprofen wear off, I've been able to do full days of mothering, teaching, homemaking, and grocery shopping.
But I"ll have to admit,
lying down sounds really, really good.
The strep might have invited something else, but it's too soon to be sure. I'll give some background to help explain.
My youngest daughter, turning five this weekend, was diagnosed with Juvenile Rheumatoid Arthritis at the age of two and a half. It started in one knee and we thought she'd injured it; the swelling was significant. Less than a month later swelling began in the other knee, and it only took minor research for me to learn the difficult news, and make an appointment with a rheumatologist to confirm.
Six months later it began in her left ankle as well, but no more joints are expected. (It's rare to add more joints after the first six months of the disease).
This is an auto-immune disease, and the tendency to develop such diseases is strongly inherited, but it takes an illness or injury to trigger the actual symptoms.
This week, it's seeming like I have rheumatoid arthritis pain in my right ankle. A strep infection is just the thing to trigger rheumatoid arthritis or other auto-immune disease, and this disease hits women between 40 and 60 years old. Hormone fluctuation, like in perimenopause, can be a factor too.
I don't have health insurance right now, so my first plan of action is to watch it and see if it continues to behave as my daughter's disease does, with pain being worse in the morning and after periods of sitting. Also, if the swelling persists for another couple days, I will start on daily naprosen (anti-inflammatory), which is one of my daughter's treatment drugs. Failing to treat the swelling eventually leads to joint damage.
Adults with rheumatoid arthritis can get ugly, deformed joints, but this is not a feature of Juvenile Rheumatoid Arthritis. My daughter has opportunity, statistically speaking (50%), to grow out of her arthritis before puberty or in her teens. Adults never grow out of RA, but it can go into remission with the use of serious drugs, like methotrexate (an immunosuppressant drug commonly used to fight cancer and rheumatoid arthritis), which my daughter is on.
This is something I'm mostly pushing out of my mind as I go about my day, as you can imagine, but when I realized what it could be (I did not injure my ankle recently, or ever before), I can't say I was surprised. There are extended family members (maternal aunt and her daughter) with MS, which is also auto-immune.
With four kids and homeschooling and homemaking, all I can do is push the unpleasant things aside, and arm myself with Scripture and prayer, knowing the Lord has a plan.
In our homeschooling this week…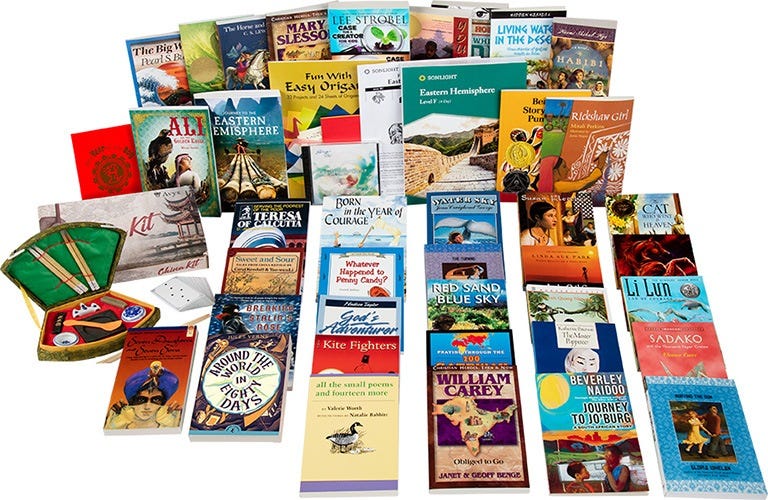 Sonlight Photo

The boys, 10 and 11, are reading three missionary books for the China portion of Sonlight's Eastern Hemisphere curriculum:
Mission to Cathay
, by Madeleine Polland,
God's Adventurer
by Phyllis Thompson, and
Eric Liddell: Something Greater Than Gold
, by the Benges. They read a chapter a day in each, and Momma assigned them
A Christmas Carol
, by Charles Dickens, which they're reading at a rate of 10 pages a day.
We've also read these Christmas books as a family: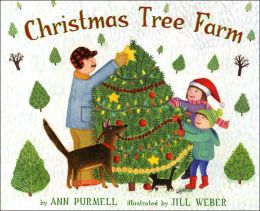 Christmas Tree Farm
, by Ann Purmell
This is an enjoyable book that will give your primary science curriculum a decidedly Christmasy flare.
School Library Journal Synopsis:
A boy tells how his family's Christmas tree farm requires yearlong work, from planting seedlings to weeding, pruning, measuring, cutting, and baling. Energetic, naive gouache-and-acrylic illustrations accompany the narrative, which will give children an inside look at the workings of a family-owned business.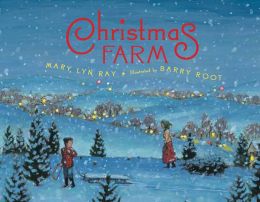 Christmas Farm
, by Mary Lyn Ray
I found these illustrations quite charming and the story equally so. A nice one to add to your shelf this month.
"This lovely tale celebrates intergenerational friendship and determination, growth and nature, and the joy of the holiday season." —School Library Journal
Publisher Synopsis:
When Wilma decides her garden needs a new beginning, she gathers string, scissors, shovels, sixty-two dozen balsam seedlings, and Parker, her five-year-old neighbor. Year after year, Wilma and Parker nurture their trees, keeping careful count of how many they plant, how many perish, and how many grow to become fine, full Christmas trees. A cozy, holiday read-aloud and a lyrical way to usher in the month of December.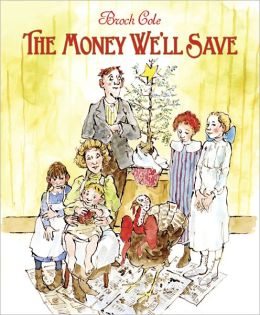 The Money We'll Save
, by Brock Cole
This story is fun, fun, fun! Sit the whole family down for some laughs.
Publisher Synopsis:
When Pa brings a turkey poult home to fatten for Christmas dinner, he assures Ma that it will be no trouble since it can live in a box by the stove and eat table scraps—and just think of the money we'll save! But it's not quite so simple to raise a turkey in a tiny flat in a nineteenth-century New York City tenement. Can Pa and the children manage the willful and growing Alfred and keep the neighbors happy until Christmas? Pa finds a solution for every difficulty—until he encounters one that threatens to ruin Christmas completely. How the family joins together to solve this last difficulty makes for a very funny and satisfying holiday story.
First Grade Goings On: I added a book from my first grade teaching years into Mary's (age 7 next week) spelling/reading curriculum.
As she encounters new word families in her
Sing, Spell, Read, Write
student readers, I will teach the corresponding lessons from this book.
Today I gave her these letters: a, e, h, l, m, n, p, s, t (Lesson 53)
And then I asked her to manipulate the letters to spell these words, one at a time, by rearranging, adding, or removing letters:
ate
mate
meat
heat
hate
Nate
neat
peat
pleat
plate
late
slate
plates
Ahead of time, the teacher writes the words on word cards and after the spelling lesson, the student sorts the word cards by word family. Then the student practices the common pattern
eat
in "The Pumpkin Eater" and "Little Miss Muffet", which are provided in the book to photocopy, use in a reading lesson, and color and display.
Mary had a blast and she's got the
ea
vowel digraph down pretty well. Hands-on is what my girl needs.
Lesson 1
in this book starts out far simpler:
Letters
: a, c, m, n, p, r, t
Make
: cap, map, tap, rap, nap, pan, ran, tan, can, man
Practice
: common pattern
an
in "Simple Simon", and "Georgy Porgy"
Reading researchers in 1970 identified 37 phonograms which could be found in almost 500 primary grade words. These 37 phonograms make up the 55 lessons in this book:
ack
ame
at
ell
ight
ink
op
ump
ail
an
ate
est
ill
ip
ore
unk
ain
ank
aw
ice
in
it
ot
ake
ap
ay
ick
ine
ock
uck
ale
ash
eat
ide
ing
oke
ug
My favorite thing this week was…
Putting up the Christmas tree with the kids this afternoon. Buying ingredients for some major cookie baking over the next week, hopefully.
My kiddos favorite thing this week was…
Definitely the Christmas tree! What child doesn't love a Christmas tree.
I'm cooking:
My son Peter helped a lot with cooking this week. Both my boys, when they cook with me, end up giving me spontaneous hugs, which I think is indicative of how bonding it is, preparing meals together.
garlic cheddar chicken
spaghetti
potato soup
turkey burgers
chicken noodle soup
taco bake
baked ziti
I'm grateful for…
~ Things don't go perfectly around here, but we continue in our Bibles and with prayer, and God's grace prevails. I'm always thankful for that.
~ loving husband
~ online friends, so kind and sweet
~ hot cocoa
~ good reads and warm blankets
~ brushing my girls' beautiful hair
~ learning along with my children
~ Beth's love for dolls
~ watching Mary grow in her studies, and Beth too
~ penpals
~ forgiveness
~ candy canes (not me, just the kids. I'm not a hard or sticky candy person at all.)
~ peanut butter blossoms
I'm praying for…
We're still praying for my father-in-law, almost 91-years-old, who is back at home alone in Florida, after leaving the rehabiliation facility against his doctor's wishes. The injury he sustained in a fall three months ago has healed, and he's pretty much told us he wants to die naturally at home when his time comes. He won't take any medicine or follow any doctor's orders. He can't do much, but he still makes simple meals and gets himself in and out of bed, the bathroom, and his chair. He won't move up here (Ohio) to live with us, nor will he go into an assisted living facility. He has one neighbor who looks in on him, does his grocery shopping, and brings in his mail, with whom we are in contact. We also call Grandpa ourselves several times a week, and my husband will visit him in February, which is when we can afford it.
Also praying from our
weekly list.
A quote to share:
"Gratitude can transform common days into thanksgivings, turn routine jobs into joy, and change ordinary opportunities into blessings." — William Arthur Ward
Thank you for reading, and how was your week?