In my life this week:
Life always has surprises for us, yes? A pleasurable weekend hike left my husband with a mosquito bite-turned-into-an-abscess. The pesky mosquito penetrated a benign cyst in the area, wreaking havoc and generating medical bills and much pain. With no insurance we can only go to clinics, so it was a nurse practitioner who did the minor surgery, necessitating four visits so far. Yikes! We're also spending a small fortune on gauze and tape and ointment, with no end in sight.
But God is good. We have the clinics, at least.
This is a small blog but lo and behold, I got an e-mail offering a $25 gift card if I would insert one sentence about a certain product (with link) into a relevant post. After the medical bills it looked enticing, but I just couldn't respond.
This blog reflects my heart and my heart isn't for sale
. I don't begrudge those who use blogging to generate income and perks--it's a job like any other job--but I could never bring myself to do it here.
I don't believe my Lord--who didn't want his Father's house turned into a marketplace--would ever make it necessary here, on a personal journal. More than anything, my journal records the nudgings and whispers of the Holy Spirit unto my heart and that is sacred to me and to Him.
Last week I pontificated about a minor drought here in Northeast Ohio, and this week we have a flooded garden; the heavens wouldn't stop dripping.
On the bright side, tomorrow promises good hiking weather, after which we'll cover all mosquito bites with ointment and bandaids for a time, because y'all,
I've learned my lesson
.
A mosquito's bite is bacteria's delight.
In our homeschool this week:
We dove into half days this week, after which we'll break in August for 6 weeks. The children had a good year and we could certainly stop, but too much free time is as dangerous as too little, and momentum is important.
Since I don't need their help on the farm (I wish we had a farm) continuing to read, write, do arithmetic and listen to stories for a few hours a day seems like the best option...and a good excuse to keep them out of the sun from 11:00 to 2:00. Two of mine would play outside from 9:00 AM to 8:00 PM if I'd let them.
First I want to share our favorite picture books from the week.
There are so many beautiful picture books packed with learning and grace, that we scarcely need buy lower-elementary curriculum at all. One such book comes recommended by
Honey for a Child's Heart
, and tells the story of a pioneer woman, lonely and heartsick out on the prairie, longing for friends, family and flowers.
A Packet of Seeds
by Deborah Hopkinson is a heartwarming story about a woman's broken heart and her young daughter's desire to see her mother smile again.
"I knew Momma wouldn't ask Pa to leave this new land...but I wondered if I'd ever see her smile again."
Woven between the skilled, poignant words is the story of all pioneer women and the incredible hardships they endured as our country expanded...a book every mother and daughter should discuss and enjoy together. The lovely Momma in the story must practice submission when her husband suggests moving west; she does so with grace, though she's heartbroken.
And the boys in your home? They can learn empathy for a wife from this lovely tale; don't leave them out of the reading. While it's labeled for ages 4 to 8, I think the depth is there for this to be a wonderful learning experience for kids up to age 14.
Picture books that teach history are rarely
just
for little ones. Who doesn't enjoy pictures to go along with deep story? I loved the art work in this book too, painted by Bethanne Andersen. Beautiful!
Have a blueberry lover in your home? Why not check out
Blueberries for Sal
, which is a tale as charming as they come for little ones, by Robert McCloskey (also recommended in
Honey for a Child's Heart)
.
You'll find this suspenseful, surprising, and delightful.
Afterward I recommend hands-on math games with blueberries or a suitable substitute. Grab a pale and do addition and subtraction as berries are manipulated to and fro. Visit a blueberry farm for picking and make something delightful with these nutritious berries, discussing the healthful antioxidants and other vitamins.
And don't forget all the preparation animals go through to prepare for winter, much as Sal's mother plans to can her blueberries for winter nutrition, and bear's mother explains why her little bear must fatten up for the long winter nap. Can your child brainstorm other animals who must prepare...like squirrels and chipmunks?
Been raining in your state? How about a walk down rainbow lane with
A Rainbow of my Own
, by Don Freeman. This classic tale lends itself to science experimenting with prisms, and to tissue paper or watercolor rainbow art. Or even to torn construction paper rainbows, not to mention a splashy walk in the summer rain.

11-year-old Peter is enchanted this week by
The Mixed-Up Files of Mrs. Basil E. Frankweiler, by E. L. Konigsburg
., winner of a Newberry Medal. Full of humor and originality, this book both teaches and delights.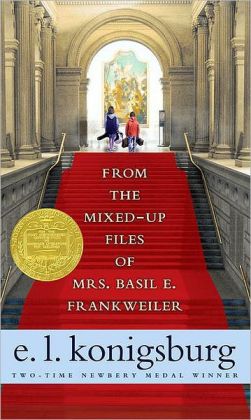 My Paul is reading
Johnny Tremain
by Esther Forbes, set in the 1770's, a book recommended by
Sonlight American History, Part One.
Technically, for the 2012-13 school year we're doing
American History, Part Two
, but we didn't buy the whole set of Sonlight books last year, and since I had a little extra curriculum money this year we purchased (used of course) the remainder of American History, Part One,
Johnny Tremain
included. We'll go back and read the best of what we missed this summer, and my girls, when they're ready, will have the whole set ready to go.
The following excerpt is from a wonderful study guide for
Johnny Tremain
,
found at the Glencoe Literature Library:
In Johnny Tremain, readers share not only a historical journey but also Johnny's personal journey of growth and discovery. When planning the novel, Forbes was determined "to give Johnny room enough to change and grow." She also wanted "an obstacle [for] Johnny . . .to face from the beginning to the end of the book. . . . This obstacle was to have psychological significance." At the beginning of the novel, Johnny is an arrogant and impulsive boy, but then life knocks him around quite a bit. He runs into some bad luck and also creates some problems for himself with his excessive pride. He has to face his problems and try to figure out who he is and what matters to him. When the dramatic events of the American Revolution involve Johnny, he must decide what ideas and beliefs are worth fighting for.
Even if you don't homeschool, I highly recommend this story as a family read-aloud, or as required reading for your upper-elementary or middle-school children. Sonlight recommends it as a read-aloud, but instead I'm reading it alongside my boys, to both challenge them and make sure the depth sinks in.
The boys are also busy building Lego Creations amidst the heavy rain we're having. They're playing with magnets, caring for the snapping turtle we're observing, learning new chores, and settling with Mom what "half-day school" means.
We continue to enjoy
Writing With Ease, Level 4
, by Susan Wise Bauer. So much more learning is packed into this resource than just writing instruction. All the selections Susan chose for us to use in dictation and narration are from a classic perspective. My boys learned so much about Leonardo da Vinci and the Renaissance,
just from their dictation and narration exercises
! And there's much more to come. I'm so grateful for this resource, which is self-contained, thorough, organized, and well thought out.
Helpful Homeschooling Advice to Share:
I highly recommend starting with Morning Meeting, right after breakfast, which entails prayer, a Bible reading, and discussing the day's agenda and expectations. I've found this really sets the right tone for the day and makes all of us stay on track better. I have check-off sheets on the walls, but I still need to go over the expectations each day so the children won't forget their chores or other responsibilities. I have one son who hopes I'll forget the check-off sheets, and sometimes, without morning meeting, I do!
This goes without saying, but it works best to let the little ones leave the meeting earlier than the older ones.
Places We're Going and People We're Seeing:
We went to a movement, craft, and literature class at the library for my two girls, ages 4 and 6. And this Sunday afternoon we're visiting a pig farm with some friends so Peter can take pictures for a library photo contest. Promises to be fun and educational for all! Weather permitting, we'll do another family hike this weekend.
My Favorite Thing This Week:
My favorite thing is nearly always the same--reading to my kids! It relaxes and bonds us so well. And I'll have to add in the family walks this week as well.
My Kids' Favorite Thing
:
Sometimes I know the answer to this question without asking them, but this week I had to ask:
Paul - That Mommy didn't have any headaches, family walks.
Peter - Storytime, family walks
Mary and Beth - Loving my Mommy, family walks.
I'm so glad I asked! :)
Things I'm Working On:
You know how the master bedroom seems to collect all the clutter, especially when you're cleaning for guests and short on time? We don't have a garage or basement so we're more challenged in this area. So this week I organized, decluttered, dusted and shined up the master bedroom. It's modestly beautiful, at last!
I told a neighborhood girl she can use our
Teaching Textbooks
math DVD-ROM to improve her math grades, but I don't know if she'll actually come (her motivation is low). Nevertheless, the room is ready for her, no longer a distracting disgrace. The computer in there is the only quiet place to listen to the lecture on the DVD-ROM.
It would be a miracle if our 11-year-old friend earns a high-school diploma, I'm afraid. She's at risk for so many things, but none of it's too big for God...I'm thankful for that!
I'm back to regular walking and I love our neighborhood this time of year. So many pretty flowers and neat yards. Always a delight to stroll here, either alone or with the whole family.
I'm Cooking:
Dinner so far this week: french toast and cheesy eggs; crockpot whole chicken; chicken noodle soup; tacos; bowtie pasta; grilled chicken.
Our grill needed a part but thanks to Amazon's quick service we're back in business tonight.
I'm Grateful For:
Time with my children, fewer and fewer headaches, low-cost clinics for the uninsured, sweet kids, green lawns, walking, flowers, family dinners, a like-new master bedroom, that God always provides, that every day is meant for learning and growing closer to Him
I'm Praying For:
Family, husband, kids, friends, country, church, neighborhood,
Compassion
kids, my own heart to cling to Him for sustenance
Photo, Link, or Quote to Share
:
How about a poem attesting to the delight children are to our hearts and lives, found
here
?
No Children!
Edgar Guest 

No children in the house to play--
It must be hard to live that way!
I wonder what the people do
When night comes on and the work is through,
With no glad little folks to shout,
No eager feet to race about,
No youthful tongues to chatter on
About the joy that's been and gone?
The house might be a castle fine,
But what a lonely place to dine!

No children in the house at all,
No fingermarks upon the wall,
No corner where the toys are piled--
Sure indication of a child.
No little lips to breathe the prayer
That God shall keep you in His care,
No glad caress and welcome sweet
When night returns you to your street;
No little lips a kiss to give--
Oh, what a lonely way to live!

No children in the house! I fear
We could not stand it half a year.
What would we talk about at night,
Plan for and work with all our might,
Hold common dreams about and find
True union of heart and mind,
If we two had no greater care
Than what we both should eat and wear?
We never knew love's brightest flame
Until the day the baby came.

And now we could not get along
Without their laughter and their song.
Joy is not bottled on a shelf,
It cannot feed upon itself,
And even love, if it shall wear,
Must find its happiness in care;
Dull we'd become of mind and speech
Had we no little ones to teach.
No children in the house to play!
Oh, we could never live that way!





Have a blessed week friends! If you read all the way to the bottom, I owe you thanks. :)