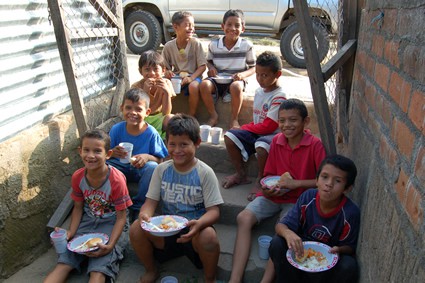 Compassion International photo
Today starts the 5-day
Compassional International
trip to Nicaragua, which is one of the poorest Central American countries, second only to Haiti.
I'll be reading the daily stories published by the 5
Compassion Trip Bloggers
, and those by
Shaun Groves
, bringing you the best excerpts and most amazing stories. Yes, I'm a Compassion Blogger, but often the assignments involve Twitter, which I don't use. This week I can actually be of use!
You can follow all of the trip blog posts
here
, or click on the Compassion Nicaragua trip button on the top right of my blog.
The Bible commands that we go and make disciples of all nations,
and this is our chance to obey in a big way,
even if we're not missionaries.
If you can't sponsor a child for $38 a month, maybe you can help by spreading the links, stories and statistics? I have powerful statistics below that you are welcome to copy and paste.
Consider that most Americans have little knowledge of world poverty. If you spread even one story, or a few statistics,
you can change a child's life forever.
Compassional International is one of the most successful child rescue missions on earth. Their
integrity
is flawless. Their hearts beat for God only.
I believe most people, if they knew how children suffered, would help, but sometimes it takes two years of intermittent exposure for them to make the final decision to click
Sponsor a Child.
So keep writing, keep sharing.
The key to the final decision is this:
we don't own anything
. The world and everything in it belongs to God. We spend God's money, not our own. So, where should God's money go?
To what Jesus thought was important, not to what we think is important
. Pride has to exit our lives and humility must take up residence in our hearts.
I've come to understand why world poverty still exists:
prideful first-world hearts
. We want to look good to each other, not to God. We please the world, not our Maker. Yes, corruption in third-world countries is a huge problem, but not as huge as misplaced first-world hearts.
If we spend less we'll look less important and less successful and maybe even less attractive.
Yes
. But someone else will be fed, clothed, schooled, given health care and told about Jesus and Hope. Someone else will get letters, be told possibly for the first time that they are loved, that they are valued and thought precious by their Heavenly Father and by their sponsor.
The decision can be broken down even further:
Is my life all about me, or all about God?
If our image changes because we're spending less on ourselves, who will stare back at us when we look in the mirror?
Jesus.
We all start out assuming we've worked hard for what we have...that we've earned it on our own merit. But if we open our hearts, God gives us the truth.
It is all gift.
Our abilities, our environment, our birthplace, our supportive parents...
it is all gift
. We cannot look at the world as a level playing field and say that hard work is the key to success. Hard work is crucial, but it's only
one
of the requirements for self-support. Hope is the most important ingredient and do you know what poverty really is?
The absence of Hope.
Just the Facts:
Here are the facts for Nicaragua, distributed by Compassion
in this compelling table
:
Average American income = $48,112
Average Nicaraguan income = $3,812
99% of Americans are literate
67.5% of Nicaraguans are literate
75% of the population lives on less than $2 a day.
79% of Americans own a car
5.7% of Nicaraguans own a car
99% of Americans have access to clean water
85% of Nicaraguans have access to clean water
55.7% of Americans attend college (though not all earn a degree or certificate)
8% of Nicaraguans attend college
77.5% of Americans use the Internet
3.5% of Nicaraguans use the Internet
46% of the population has no access to adequate sanitation
More than 40% of Nicaraguan girls are married while still minors (poor families see child marriage as a way to improve their lot in life)
33% of maternal deaths are teenage girls
65% of rural women are illiterate
71% of children will not finish primary school
The maternal death rate is 4.5 times greater than that in the U.S.
1 out of 3 children suffers from chronic malnutrition
Compassion began working in Nicaragua in 2002, and now 41,523 Nicaraguan children are served by Compassion International!
Friend, you can be part of the heart miracles this week. Please pray, sponsor, and spread the word!
Thank you.
Below are verses reminding us of God's heart in this matter, which you can use as you spread the word.
Matthew 25:40
"The King will reply, 'Truly I tell you, whatever you did for one of the least of these brothers and sisters of mine, you did for me.'
Isaiah 58:10 If you pour yourself out for the hungry and satisfy the desire of the afflicted, then shall your light rise in the darkness and your gloom be as the noonday.
Luke 14:12-14
He said also to the man who had invited him, "When you give a dinner or a banquet, do not invite your friends or your brothers or your relatives or rich neighbors, lest they also invite you in return and you be repaid. But when you give a feast, invite the poor, the crippled, the lame, the blind, and you will be blessed, because they cannot repay you. For you will be repaid at the resurrection of the just."
James 1:27
Religion that is pure and undefiled before God, the Father, is this: to visit orphans and widows in their affliction, and to keep oneself unstained from the world.
Proverbs 28:27
Whoever gives to the poor will not want, but he who hides his eyes will get many a curse.
Luke 16:19-31
"There was a rich man who was clothed in purple and fine linen and who feasted sumptuously every day. And at his gate was laid a poor man named Lazarus, covered with sores, who desired to be fed with what fell from the rich man's table. Moreover, even the dogs came and licked his sores. The poor man died and was carried by the angels to Abraham's side. The rich man also died and was buried, and in Hades, being in torment, he lifted up his eyes and saw Abraham far off and Lazarus at his side.