In my life this week…
Okay, so, I got on a soapbox here...didn't really mean to, but my mother instincts took over. Skip this whole "in my life" section if you don't want to read a soapbox about the media and our children's hearts.
This week I'm grateful for so many things. I'm grateful that when I was 31, the Lord plucked me from this world, and he's still plucking. There were such contrasts this week, and each one filled me with gratitude for being spared.
We live sheltered here, with no TV signal and an Internet speed too slow for videos. Much of what goes on in the world escapes us, but we do read articles in an attempt to follow real news.
It bothers me that when Bing comes up on Internet Explorer, along with it come trashy pictured article teasers to choose from, mostly about celebrities, complete with cleavaged pictures I hate for my children to see (pictures my Internet filter doesn't do anything about). Today I decided, that's it! I'm searching for a child-friendly browser.
America has become so calloused and immoral, few in the business get it. In Italy, where I spent 14 months as a pre-teen, one got used to seeing trashy p-rn magazines on newstands. Right away, Europe's fallen morals stood out to Americans, but now, not so many years later, look where America is?
It's time for Christians to take a stand. I can't say how each family should take a stand, but I know we are responsible before God for preserving our children's innocence. We are not powerless, though it would seem like it. The Lord tells us that if our eyes cause us to sin, gouge them out. He's that serious about us making pro-God decisions.
This week two of the kids had dentist appointments so we ended up in a waiting room with cable TV, on which there was a morning talk show with the trashiest topics--mostly about Hollywood. We all had books and tried to read, but the unkind, gossipy show host had such a big mouth we couldn't escape her (no controls on the TV that I could see).
Right away I felt sad that such a show survived--that anyone thought it worthy. Why are celebrities so intoxicating to people? Fame often leads to tragic downfall, and the intoxicated audience shares much of the blame. When we don't click on a celebrity article, we're doing the celebrity a favor.
After fifteen minutes the talk show got worse and I was more angry than sad. In a gutsy-for-me move, I got up and told the front desk that the show was so trashy my children shouldn't be hearing it. They apologized, saying they don't keep track of what's on. One of the women absentmindedly changed it....to a soap opera, just as offending.
I wanted to kiss Jesus right then and there, that for four years now, cable TV has been absent from our home. I can't imagine even changing channels without my children becoming more corrupted by the minute.
It would seem that in order to raise good children nowadays, we need to recreate the atmosphere of the 1800's in our homes, so that when our children have their wings, they will be grounded, rooted in countless hours of family devotions and Scripture, wholesome whole-family entertainment, excellent literature to feast their hearts on, hardwork and camaraderie, and the confidence that comes from it.
In the current atmosphere, I fear there is just no way to ground children. Never has there been so much available to confuse children (and parents), countering Truth at every turn. When mainstream media starts looking like Sodom and Gomorrah, it's past time to say...as for me and my house, we will serve the Lord.
Turn magazines over at the check-out counter, asks clerks to turn off the TV--show your children not to be ashamed of the Gospel. Never fear the prudish label or the whispers, when standing up for Truth. Never before has it been truer--you are either for me, or against me, saith the Lord. Christians can't just shake their heads in disgust anymore...we need to act, or the Enemy wins...and we lose our children.
In our homeschool this week…
The boys are starting
The Christmas Carol
, by Charles Dickens, illustrated by Roberto Innocenti (gorgeous illustrations), and keeping on with their regularly scheduled Sonlight F reading.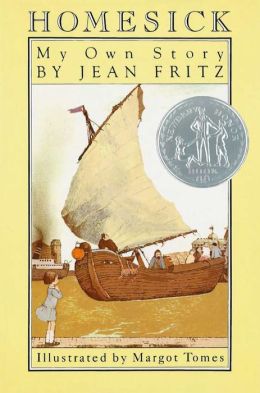 Homesick
, by Jean Fritz, is the autobiographical story covering two years of Jean's childhood, spent in China where her parents worked for the first ten years of her life. A Newbery Honor book, it promises to stay in our hearts for some time, as we hang out in China with Sonlight Core F (Eastern Hemisphere). The book deals with some serious issues, so it's definitely one for parents to pre-read in order to teach, discuss, flesh-out.
Publishers Synopsis
:
The accolades speak for themselves: "Fritz draws the readers into scenes from her youth in the turbulent China of the mid-twenties. One comes to appreciate the generous affection of her nurse/companion Lin Nai-Nai, the isolating distance in her mother's grief over losing a second child, the dynamics of a suffering population venting its hostility on foreigners, and most of all, the loneliness of a child's exile from a homeland she has imagined constantly but never seen....A remarkable blend of truth and storytelling."
The very cold weather has awakened a cooking and baking fire in the boys' and Momma's heart, so we're scaling back school a tad to make time for baking and cooking lessons--part of the one-piece life, in which life and school flow together, rather than school being a separate beast, after which real life beings. It makes sense to heat up a cold house with the oven fires burning, and then gather joyfully to eat the fruit of our labors, which today bring us a crumb apple pie and homemade cinnamom rolls, and a crockpot roast chicken with mashed sweet potatoes.
Mary and Paul are learning to peel apples, and Beth helps where she can, but her dollies are still her first love.
Mary, first grade, has gained some independence in her schooling. She now prints her lower-case letters well enough for me to walk away, if needed, during copywork and journal work, and she can do Explode the Code by herself, which I added to supplement her spelling. She can do a math sheet on her own, read some on her own, though her
Sing, Spell, Read, Write
books are gaining rapidly in difficulty, meaning I need to be there more often than not.
Beth, almost 5, varies daily in her interest in school. Her late birthday--like her sister's--means she doesn't technically start kinder until next fall, so I'm not forcing it, but it would work well for her to be in a schooling duo with sister, like the brothers are. If she can stay motivated for just an hour of school a day, I can have her reading alone by summer, to start a Sonlight Core with her sister by next fall. We will see.
Places we're going and people we're seeing…
Beth had her three-month opthamologist appointment this week, which brought good news for the third consecutive time. Her eyes show none of the inflammation that less than 20% of Juvenile Rheumatoid Arthritis patients suffer from. Her only eye inflammation came in the first year of the disease. Praise God for one less reason to be concerned about her future.
Yesterday brought a long library visit during which I perused the Christmas section. In our library this section is vast...two rows long, so if I don't start today, I won't have time to share all the Christmas literary treasures I found for the season.
I look for books that depict Christmas as a joyous Christian celebration, as opposed to an event besieged by the modern marketplace and the Enemy. Thus, many of them depict Christmases of the late 1800's and early 1900's. We'll start today with a few:
The Christmas Miracle of Jonathan Toomey
, by Susan Wojciechowski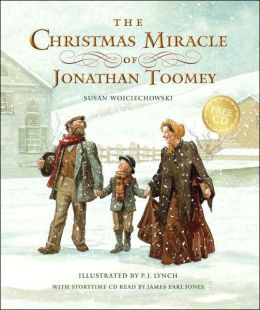 Publisher Synopsis
:
Jonathan Toomey is the best woodcarver in the valley, but he is always alone and never smiles. No one knows about the mementos of his lost wife and child that he keeps in an unopened drawer. But one early winter's day, a widow and her young son approach him with a gentle request that leads to a joyful miracle. The moving, lyrical tale, gloriously illustrated by P.J. Lynch, has been widely hailed as a true Christmas classic
.
The widow McDowell and her seven-year-old son, Thomas, ask the gruff Jonathan Toomey, the best wood-carver in the valley, to carve the figures for a Christmas creche.
I read this riveting book--the one shown above--in the library and nothing could turn my attention from it, save Beth's too-loud library voice as she played on the library train cars (yes, there is a train in our children's section, but lest you feel jealous, let me also say that our main children's librarian is a mean-faced lady who scares me).
As soon as we arrived home, I made dinner, and when the last mouth stopped chewing, I gathered everyone for "one of the best Christmas stories ever." (My words). I read it in place of our dinner devotions, in fact, as it's truly a masterpiece of storytelling and rich meaning.
The Gift,
by Aliana Brodmann (Hanukkah story, but about dying to ourselves to care for the least of these, and how that is gift itself to the giver's heart.)
Publisher Synopsis
:
With her Hanukkah money in her pocket, a little girl eagerly sets out to find the perfect way to spend her treasure. Will she choose a fancy hat? A new doll? A soft, gray kitten? Nothing seems just right until she hears a lovely melody from a street musician's accordion. Suddenly she knows what to do with her gift -- and in giving from her heart she receives the best gift of all.
Ben's Christmas Carol
, by Toby Forward, Illustrated by Ruth Brown
Publisher Synopsis:
Toby Forward and Ruth Brown have collaborated on a wonderfully original story about the mice who live beneath the floorboards of a great London mansion, the home of Ebenezer Scrooge. It's Christmas Eve, but a miserly mouse named Ben feels no special cheer. For him, Christmas is just another day. After an unexpected visitor takes him on a ghostly tour of London, the awed creature decides he'll never be mean again. Full color.
An Orange for Frankie
, by Patricia Polacco. Ah, the way this family celebrates Christmas...it's the perfect, meaningful Christmas, full of love and joy and the spirit of giving, but the only gift for the children? Oranges, which absolutely delight their innocent, loving hearts. But in the year of the story, there's a beautiful twist on their traditional Christmas orange.
Publisher Synopsis
:
The Stowell family is abuzz with holiday excitement, and Frankie, the youngest boy, is the most excited of all. But there's a cloud over the joyous season: Tomorrow is Christmas Eve, and Pa hasn't returned yet from his trip to Lansing. He promised to bring back the oranges for the mantelpiece. Every year there are nine of them nestled among the evergreens, one for each of the children. But this year, heavy snows might mean no oranges . . . and, worse, no Pa!
This is a holiday story close to Patricia Polacco's heart. Frankie was her grandmother's youngest brother, and every year she and her family remember this tale of a little boy who learned--and taught--an important lesson about giving, one Christmas long ago.
My favorite thing this week was…
Reading teary Christmas stories at the library, and sharing them with my family at home.
My kiddos favorite thing this week was…
Cuddling for family stories, the promise of snow in the weather report, baking together.
Things I'm working on…
At AWANA I serve as needed, meaning I run between Sparks and Cubbies, depending on which teachers are absent. In Sparks one week I noticed a small boy, probably 5 or 6, who wore filthy, ill-fitting clothing. He was the sweetest young boy, as one might expect. The unspoiled ones are usually the sweetest at this age.
I wanted to go immediately to the thrift store for him the next day, but I knew I'd be using our grocery money, so instead, I sent out an e-mail to our Freecycle network. Two days later I picked up some clothes from a kind lady, but while there were some good sweatshirts and shirts and a church outfit, there weren't any jeans, save for a play pair with holes.
No one else responded to my Freecycle e-mail, so I waited a few more days, and then went to Goodwill, telling God I was trusting him to provide for the little boy, and for us. Not only did I learn it was 35% off day, but also, when I went home with my like-new, numerous items for this little boy, including four very good pairs of jeans, my husband shared that he had an opportunity for overtime for the next two Fridays. Yippee! God is awesome!
It is Operation Christmas Child time, so I'm counting on God to work another miracle as we put a shoebox together to take to AWANA.
Sometimes, it doesn't come down to the numbers on the lines of your budget. If it did, I couldn't be home with my children...the numbers just don't add up in our favor. It comes down to your faith. If your plan is for the Kingdom, God makes a way.
I'm cooking
…
meatloaf, crockpot whole chicken, whole wheat pancakes, potato soup (yes, again...it's sooo good), bowtie pasta with sausage marinara, chicken noodle soup, baked ziti
Baking pumpkin bread, crumb apple pie, cinnamon rolls, all with the kids' help.
I'm grateful for…
~ God's kind of math
~ friends who can relate
~ kind words
~ wholesome books
~ four children
~ winter comfort food
~ sweet 5 year old boys at AWANA who make God's glory shine
~ snow on the way
~ online friendships
~ for Franklin Graham and his wonderful Operation Christmas Child ministry
~ Compassion children to celebrate Christmas with, even if only in letters
~ a good, hardworking Christian husband who listens to my Christmas picture-book pics with tears in his eyes
I'm praying for…
My 90-year-old father-in-law left a rehab center in Florida against the doctor's orders 3 days ago. He is not doing well in his home. He is weak, depressed, but still as stubborn as ever. Every time he doesn't answer the phone, I worry; I can't get him out of my mind. I told him again how happy we would be to have him here in our home in Ohio, but he just says it would be a burden. God will make a way, I told him. He dreads the trip itself. Though the trip would be hard at his age, God would help, I assured him.
I am praying for his safety, and that he will allow God to decide what is best for him. I fear his stubborness will be what kills him.
A quote to share...
(hurray for God's plans!)
Jeremiah 29:11
For I know the plans I have for you," declares the Lord, "plans to prosper you and not to harm you, plans to give you hope and a future.
Thank you for reading, and Happy Thanksgiving to you and yours!