In my life this week…
This week I'm preparing for a dinner party, which is a brave undertaking for me. Normally I have only one or two people over at a time, but this time two sets of aunts and uncles are coming, and possibly a single friend.
My dad's mom and my mom's mom were placed in the same nursing home in Ohio years ago, and miraculously, they ended up in the same room. My family lived in CA at that time, where I was going to college.
Thrown together often due to frequent nursing home visits, were my dad's sister and my mom's sister. These two aunts became friends and have remained close for the past twenty-two years, and it's these ladies and their husbands who will grace our home this Saturday. We don't see them often, although they live quite close; one had 6 children and the other had 4, so their families and grandkids keep them plenty busy.
Of all the things I could make to feed 11 people--with most of the work done ahead of time--I decided on a soup and salad and bread bar. Thus, I have four soups to prepare, two different kinds of breads, and a large salad with side fixings, plus a chocolate cake to prepare. One aunt is also bringing a dessert.
I decided on these soups
:
potato soup with bacon
sausage tortellini soup
navy bean with ham
taco soup (with milder Rotel this time around)
And these breads
:
honey corn bread
pumpkin bread
whole wheat french bread
And then of course, there's the house and the four kids to wrangle with as well, which is why I don't often entertain on larger scales.
Paul will play 3 songs on the piano for entertainment, and the girls and Peter will recite Bible verses they've learned in AWANA, and possibly a silly Thanksgiving turkey song. Only one of my aunts is Christian--only four Christians exist in my entire clan, both sides included--but I decided that leaving out the verses for the sake of the non-Christian aunt and uncle would be as though I'm ashamed of the Gospel.
At any rate, I'm praying for hearts to receive His truth.
My 90-year-old father-in-law is still in the rehab center in Florida. They keep pushing back his release date for various reasons. He wants to go back to his Florida home, living alone with part-time hired help, but that is not what doctors recommend for him. He already had a second fall, this time in the rehab center bathroom. He can't stand hands-free without losing his balance, so they have an alarm and device on his bed to prevent him from getting up without help.
We call him several times a week, and those conversations can be stressful because he's just so stubborn, though I understand him feeling like a prisoner. He doesn't want to live with us, or in an assisted living facility near us. His decision puts pressure on his neighbors, which bothers us because it should be family shouldering any burden of his care, not neighbors.
But, we can't force him and the assisted-living facilities charge an average of $3500 a month, which is not covered by medicare (only nursing homes are). He has enough money but feels sick about giving it to these facilities, which provide only mediocre care at best, due to hiring low-wage workers with high turn-around.
We have much to pray about and we have to cling to the Father in hope. We want my father-in-law's last years to be full of dignity, and yet we can't move down there for various reasons. His house is a tiny one-bedroom with bonus sunroom, for one thing.
In our homeschool this week…
The boys have added
Sadako and the Thousand Paper Cranes
by Eleanor Coerr, as we hang out in Japan this week. I cried and cried at this story and I feel for the boys as they near the ending. It's yet another reminder that war is devastating and ugly and should never be taken lightly. As we read the news about various wars, it's far different than delving into the story of one person affected by the events.
Personal stories help children learn the most facts and uncover all the layers of a topic, more effectively than non-fiction at some levels, and I'm glad Sonlight includes both for our enrichment.
Scholastic Synopsis
:
Two-year-old Sadako Sasaki was living in Hiroshima when the atom bomb was dropped. Sadly, ten years later, she was diagnosed with leukemia, also known as "atom bomb disease."
There is a Japanese legend that says that if a sick person folds 1,000 paper cranes, the gods will make her well again. Sadako spent long hours in bed, folding those paper cranes, and never giving up that hope. When Sadako had folded six hundred and forty-four cranes, and they hung above her bed on strings, her classmates folded the rest.
Today there is a memorial in Hiroshima Peace Park dedicated to Sadako. Children come there and leave the paper cranes they make in her honor.
Sadako and the Thousand Paper Cranes
is based on a true story.
As my children delve into
Sonlight's Eastern Hemisphere
package, they're learning about other religions (and cultures) with the purpose of praying for the lost and better understanding the depth of their confusion and deception. Most of the nations they're learning about are in the 10/40 missionary window--the largest concentration of unreached people groups of the world.
The purpose is
not
to accept that every nation has its own religion and that's okay. Instead, they're learning that we can show respect for all people while still praying they'll come to know Truth. Buddhism is the most difficult, so far, and it does bother Peter's OCD to read about it, but we're getting through it.
Islam, Judaism and Christianity are similar in that they share some Bible scripture beginnings, with the first two departing from Christianity at some point in the Old Testament.
Other School News
: After lunch each day we read a Thanksgiving book, and then make a construction paper leaf, writing on it what we're thankful for that day. We then tape it on a Thanksgiving Tree my Paul designed on white butcher paper. You could make this quite elaborate, but we're simple here most of the time.
The children and I are really enjoying this, and wanted to recommend some Thanksgiving books for you. I've always
loved
teaching the Thanksgiving story, and I admit to owning all of these books and more over the years.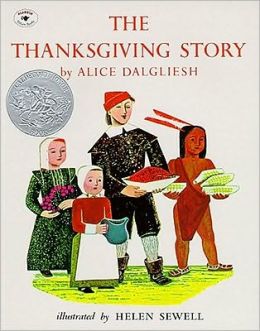 The Thanksgiving Story
, by Alice Dalgliesh
Publisher Synopsis
:
Dagliesh and Sewell received praise for the clarity and immediacy of their picture book, a hit of the season in 1954. Today's children, beginners and advanced readers, will value the story about one family's first Thanksgiving in the Plymouth Colony, strikingly present in stylized, naive pictures like colored etchings. Giles, Constance and Damaris Hopkins are aboard the Mayflower, overcrowded when the Speedwell turns back to England. On the journey, the children's baby brother is born and named Oceanus; he will be one of the smallest in the company of settlers who endure the terrible first year in the New World and gather to celebrate the harvest the next November. The story ends with the great feast to which the colonists invited the Indian chief Massasoit, Squanto and their people who had helped the strangers survive hunger, cold and sickness.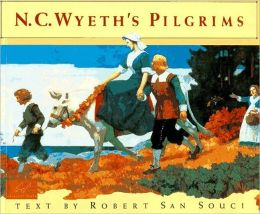 N. C. Wyeth's Pilgrims
, text by Robert San Souci
Publisher Synopsis
: The adventurous saga of the settling of the Plymouth Colony is strikingly portrayed in this magnificent book. Spectacular paintings by renowned artist N.C. Wyeth, gloriously bring to life the carefully researched text by well known children's book author Robert San Souci. The story of the Pilgrims, including the first Thanksgiving, is a central part of America's history and, over the course of time, it has taken on an almost mythical quality. Drawing upon a variety of resources, including the author's trip to the Plimouth Plantation, the text dispels some popular misconceptions about the setting of our nation as it broadens our understanding of the bravery and determination of our forebears. A beautiful artbook as well as an informative history book, N.C Wyeth's Pilgrims belongs in every home, library, and classroom.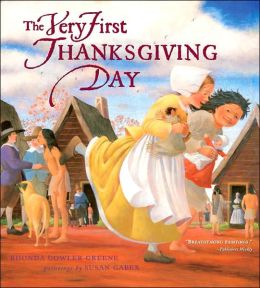 The Very First Thanksgiving Day
, by Rhonda Gowler Greene
Publisher Synopsis
: The story of the first Thanksgiving celebration, told in cumulative rhyme, introduces young readers to America's most beloved national tradition, which began with a shared feast to rejoice in the bounty of the land, new beginnings, and peace between two societies.
Exquisite paintings by Susan Gaber transport the reader back to the earliest days of American history with meticulous detail and breathtaking imagery. Sure to be a yearly favorite, The Very First Thanksgiving Day will resonate with readers young and old on this day for thanks and blessings.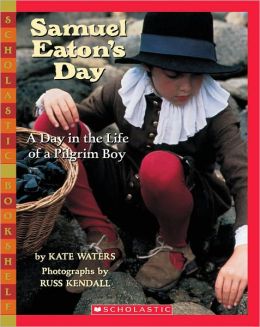 Samuel Easton's Day: A Day in the Life of a Pilgrim Boy,
by Kate Waters
Publisher Synopsis
: Samuel Eaton is a young boy living in an early American settlement in the year 1627, and today is the day he will help with his first rye harvest! If he can prove to his father he's up to the task, he will be able to help with all of the harvest. But harvesting rye is even more difficult than he expected. Was he foolish to think he could do a man's work?
Text and photographs follow a six-year-old Pilgrim boy through a busy day during the spring harvest in 1627: doing chores, getting to know his Wampanoag Indian neighbors, and spending time with his family.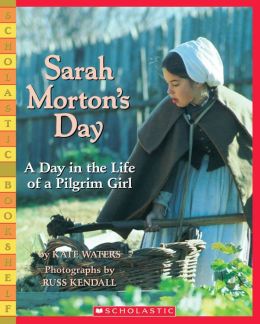 Sarah Morton's Day
: A Day in the Life of a Pilgrim Girl, by Kate Waters
Publisher Synopsis
:
At sunup when the cockerel crows, young Sarah Morton's day begins. Come and join her as she goes about her work and play in an early American settlement in the year 1627.
There's a fire to build, breakfast to cook, chickens to feed, goats to milk, and letters and scripture to learn. Between the chores, there is her best friend, Elizabeth, with whom she shares her hopes and dreams. But Sarah is worried about her new stepfather. Will she ever earn his love and learn to call him father?
The First Thanksgiving,
by Garnet Jackson
Publisher Synopsis
:
When the Pilgrims landed in New England, many died during the first harsh winter. This easy-to-read story describes the first Thanksgiving celebration and tells how Native Americans helped the Pilgrims through that first difficult year.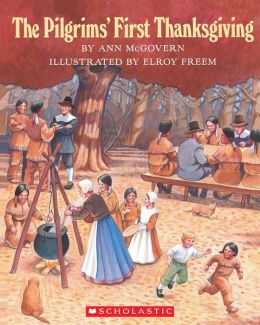 The Pilgrim's First Thanksgiving,
by Ann McGovern
Publisher Synopsis
:
Elroy Freem (the pseudonym of a popular children's book artist) gives this reissue of a favorite story new life. Teachers, parents, and children will give thanks for this easy-to-read, larger format book with lively, full-color illustrations.
This particular book is full of rich details; I feel the above synopsis doesn't do it justice.
The First Thanksgiving
, by Linda Hayward
Publisher Synopsis
:
Young readers start the familiar story behind our tradition of Thanksgiving Day in England in 1620, when the Pilgrims are setting sail for far-off America, leaving behind friends and safe homes. The reasons for their journey, the trials they endure while at sea, and all of their amazing adventures are detailed in this easy-to-read book.
On the Mayflower: Voyage of the Ship's Apprentice & a Passenger Girl
, by Kate Waters
School Library Journal Synopsis
: Photographed on the Mayflower II, a replica of the original ship, this fourth book in an acclaimed series charts the high seas friendship of two young passengers. "Well written, designed, and photographed." —
School Library Journal
Helpful homeschooling tips or advice to share…
When I can't think of a specific tip, I like to just say...
pray, pray, pray
. It's the single best course of action for any homeschooling mother. It ensures that God's will is alive in our homeschool.
Places we're going and people we're seeing…
We went to Beth's three-month rheumatology check, and thankfully, they aren't increasing any of her medicines, though her swelling is up. They told me they expect arthritis flares after any surgery (she had her tonsils out last July). She is getting around pretty well and not complaining of pain, so I am very, very, thankful.
We don't go a lot of places or sign up for a lot of events, because the minute we prepare for an outing and leave the house, we lose academic time. As most of you well know, it's hard to get back in the groove with school after an outing. We choose very carefully how we'll spend our time, making sure the children have far more down time than running around time. Every family is different, but we're happy in our home together. The kids generally hate driving around unless it's for a seasonal field trip.
My favorite thing this week was…
Mary, age 6,
made up a worship song stanza
, which delighted me. I've also enjoyed every Thanksgiving reading segment this week.
And every time I sit down with my children individually to study AWANA verses, I'm so blessed. We sit in a rocker together and make it a special cuddling time.
My kiddos favorite thing this week was…
They love company, so I can tell you ahead of time they'll say having a dinner party was their favorite.
Things I'm working on…
I'm losing the migraine battle, so I began again taking the Elavil
I wrote about a few weeks ago
(a daily preventative medicine). I'm working on getting over the grief that this is even necessary, and trying to be patient as my body gets used to the medicine.
I'm cooking…
crockpot black bean soup
whole baked chicken
homemade chicken noodle soup
shepherd's pie
sausage marinara spaghetti
tortellini soup
potato soup
crockpot navy bean soup
taco soup
I'm grateful for…
~ a Compassion letter from Burkina Faso
~ a warm home for these cold November days (first real snow on its way, I'm told)
~ a husband who listens
~ sweet kids growing in the Lord
~ grace for the hard days
~ children who forgive each other
~ a huge leaf pile (Peter's hard work, mostly)
~ Peter offering to rake and gather the neighbor's leaves, and doing a good, thorough job. They didn't say thank you (he told them it was for his leaf compost), but I praised him for his hard work and diligence.
~ pumpkin smells in the kitchen
~ looking forward to fellowship with aunts and uncles
A quote to share...
Proverbs 16:3
Commit to the LORD whatever you do, and your plans will
succeed.
Thank you for reading. Have a wonderful day!
top image