In my life this week…
Our week started with a delightfully beautiful snow--about four inches! The children were beyond excited and stayed out for a couple hours building snowmen and starting a snowfort. It warmed up too much over the next couple days, melting the beloved snowmen, but the beginnings of their snowfort took several days to melt entirely.
A week or so ago I bought a small sewing kit so I could hem some pants. The children discovered it and a fire started in their hearts. A
sewing
fire. It started with Mary asking me to teach her to sew (I was only taught to hem myself, not really sew). She was inspired by the
Quiltmaker stories
we read a couple weeks ago.
Now, a few days and one Hobby Lobby visit later, the three older children are sewing quilts for their stuffed animals. Their patience and diligence have amazed me all week. They've actually spent every spare minute sewing.
The carpet is full of thread and we now tread around in shoes because they can't quite keep track of their needles, but all in all, I'm thrilled they've discovered a handicraft just before winter sets in.
Here is Peter's first finished product. Sure, it's not the straightest quilt, but his stuffed bunny, beloved since Peter was two and kind of forgotten now, will be thrilled at the sudden attention, don't you think? He kept asking me if it's okay for boys to sew, and I told him he would someday have to hem and repair his own clothes, perhaps, so it's a good skill to develop.
My boys are loud and boisterous and can barely walk down the hall without an impromptu wrestling match, so a quiet activity thrills me to the point of happy dancing, whether it be reading, sewing, or playing board games. Mothers of boys unite! Quiet is a rarity and something we'll cherish until the empty nest, at which time it will be far too quiet, and we'll reminisce about those wrestling matches down the hallway.
Last Saturday was our dinner party for my aunts and uncles, and we had them snap a photo of us. Whole-family photos are hard to come by. Some of us are too silly, and one of us is too serious, but we're all in one frame. It got a little hot in the kitchen, cooking all that soup, so Mommy and Daddy are too shiny, but oh well.
I made a delicious potato soup for my own family the week before, but when I tried the same recipe in the crockpot the day of the party, it didn't work out. I had three other soups to serve, fortunately.
What's the secret to adding sour cream or other dairy to soups? The first time I had no trouble, but when I added the sour cream to the crockpot, it made a mess and curdled up, though we tasted it the next day and it was fine. Just too ugly to serve at a party. Will the veteran cooks out there let me in on the secret? Was the broth too hot? Was I supposed to wait a bit?
In our homeschool this week…
As part of
Sonlight Eastern Hemisphere
studies, the boys read a delightful, riveting story,
The Kite Fighters,
by Linda Sue Park, about Korea in the 1400's.
goodreads
Synopsis:
In Seoul, Korea, in 1473, Young-sup and his older brother Kee-sup are excited about the New Year kite competition. Young-sup is an expert at kite flying. He knows just what his kite wants him to do. Kee-sup has trouble handling his kite, but can build and design a kite fit for a king.

Each brother knows his own talents as they practice together for the New Year kite-fighting competition. But according to tradition, Kee-sup, the first-born son, must represent the family. Young-sup knows he must help his older brother and stay in second place. But that doesn't stop him from hoping for the chance to show his great skill as a kite fighter.
During the reading and after, I kept hearing similar comments from both boys,
"This is a really good book. The best of the year so far. I can't put it down!"
Now for what I'm reading aloud this week....
I absolutely love picture books! The feel and smell of them. The shiny covers, the illustrations...everything. So when I come across a book like
The Lonely Book
, by Kate Bernheimer, which captures the magic and charm of picture books, I simply must read it to my kids so they can understand their Momma just a little bit better. I will never stop loving picture books. They're for all ages and I want my children to treasure them always and pass that love on to the next generation.
goodreads synopsis
:
When a wonderful new book arrives at the library, at first it is loved by all, checked out constantly, and rarely spends a night on the library shelf. But over time it grows old and worn, and the children lose interest in its story. The book is sent to the library's basement where the other faded books live. How it eventually finds an honored place on a little girl's bookshelf—and in her heart—makes for an unforgettable story sure to enchant anyone who has ever cherished a book. Kate Bernheimer and Chris Sheban have teamed up to create a picture book that promises to be loved every bit as much as the lonely book itself.
Another delightful pick from the picture book section of the library is this masterpiece by Anders C. Shafer entitled
The Fantastic Journey of Pieter Bruegel,
sure to enhance your art history studies, or any studies featuring the 1500's.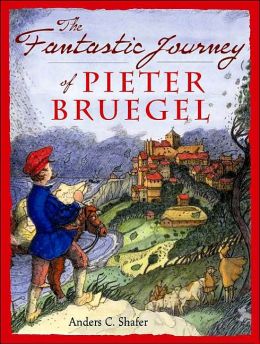 goodreads synopsis
:
In the 1550s, a gifted young painter traveled south from Antwerp to study the art and ruins of Rome. He was Pieter Bruegel, now recognized as a Northern Renaissance master. His dangerous, beautiful journey changed his work forever.

Embracing what is known, Anders Shafer has envisioned Bruegel's two-year sojourn in a series of brilliantly imagined diary entries and colorful paintings. We see Bruegel joking with peasants, confronting thieves in mountain passes, caught in a naval battle, working in Rome, and more, always astutely observing and drawing human nature. This unusual book vividly evokes Bruegel's growing sensibility and shows how art carries our common humanity across the centuries. An Author's Note and a gallery of Bruegel art are included.
Black Cowboy Wild Horses: A True Story
by Julius Lester is about a famous black cowboy and former slave, Bob Lemmons, whose tracking ability as a Texas cowboy was legendary. The prose is excellent, the images of the frontier beautiful, painted by Jerry Pinkney. This book captures a bit of American history and honors a famous black American.
From Publisher's Weekly
:
A spirit of freedom pervades the pages of this picture book, accompanied by the sound of thundering hooves and the feel of the heat and dust of the plains. Based on an incident in the life of Texas cowboy Bob Lemmons, the tale centers on his success in corralling a herd of wild mustangs with only the aid of his horse. Possessed of a legendary tracking ability, Lemmons, a former slave, follows the drove day and night, infiltrating the herd astride his black steed, Warrior. In a dramatic climax, he defeats the mustang stallion for possession of the herd. Lester and Pinkney, who previously collaborated on John Henry and Sam and the Tigers, reunite in an impressive display of teamwork, transporting readers, through the alchemy of visual and verbal imagery, to the heart of the action.... Notable for the light it sheds on a fascinating slice of Americana, this book is essential for anyone interested in the Wild West. Ages 5-up.
Jerry Pinkney, the illustrator, has been illustrating children's books since 1964, and has been the recipient of five Caldecott Honor Medals, a Caldecott Medal, and five
The New York Times
"Best Illustrated Books".
Having grown up in Southern California, I went to school with black students and other ethnic and cultural groups representing the melting pot that is America. But my children, growing up in semi-rural Ohio, aren't exposed to as many races, so I strive to bring home books that help them understand the varied cultures that represent America.
Last but not least is a fun book about winter, told in delightful rhyme about a boy who loves winter, contrasted with his sister, who can't stand it...until the end. This book is fun, fun, fun! Especially when followed up by steaming cups of hot chocolate.
Oh, doesn't that sound cozy? Excuse me while I go prepare a cup for myself...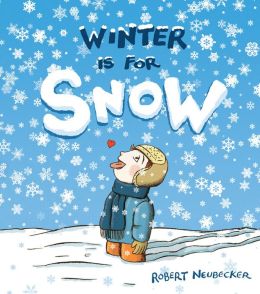 Publisher Synopsis:
Winter is for sledding,
friends, snowmen, penguins!
Winter is for snow!
In a rambunctious ode to everything winter, two siblings explore a snowy wonderland . . . and end up in the cozy warmth of family. Delve into Robert Neubecker's expressive and rejuvenating illustrations that celebrate snow and the coziness of friends and family at home. Only Robert Neubecker's magic touch could make kids love winter this much!
Helpful homeschooling tips or advice to share…
As you look over the labor of love that is homeschooling at week's end, don't think about the lessons you never got around to, but remember instead what you
did do
to further their heart growth. Did you fit in devotional time? Did you discuss Scripture and how to apply it to their daily lives? Did you pray together many times? Did you use your time wisely, as to be a role model for your children? Did you humble yourself to apologize when you were wrong? Did you ask for God's help? These are the things the Lord looks upon. He doesn't add up the lessons we missed and give us an F. He smiles upon the hard work of putting Him first in all we do. He knows how hard this is, and how much the enemy fights us on it at every turn.
If we put Him first--the most significant act of our will ever--he will fill in all the gaps and make successful all our other parenting endeavors, including the academic ones.
I honestly believe this to my core.
With Him at the lead, we cannot go wrong.
My favorite thing this week was…
Watching the children sew to their heart's delight. Seeing the excitement in their eyes as their projects grew. And watching my littlest one, Beth, age almost 5, play with her dollies serenely while the older ones sewed their free time away. She just accepted that she was too young for needles--something I thought would be a fight.
My kiddos favorite thing this week was…
The snow and the sewing.
Things I'm working on…
...My winter wardrobe. I prefer to wear skirts and dresses, but my main supply happens to be summer and spring styles and colors. I shop exclusively at thrift stores and I'm having trouble finding as many feminine choices for winter. Most of the skirts and dresses in thrift stores are too trendy and short, so recent trips have been frustrating.
I did have a little money in my paypal account from selling curriculum though, so I used it to buy two long jean skirts on ebay. They were like new and not too expensive, except for the shipping. Now I have four long jean skirts I keep mixing and matching with sweaters or long sleeve shirts. I prefer them because I don't have the budget to buy skirts that fail to match a lot of other things. And with jean skirts, I don't have to wear a particularly dressy or uncomfortable shoe, and there's generally no ironing involved. Around the house I wear flats with the long skirts, and when I leave the house this time of year in a skirt, I change into long boots.
Once at the end of the summer I put on cropped, ankle-length jeans because I was behind on laundry--after weeks of skirts and dresses only. My four year old said,
"Mommy, why are you wearing those pants? I can't tell if you're a mommy or a daddy in those."
That was about the strangest thing any of my children has ever said to me,
but it drove home that femininity is important to me
. I
want
to look different than my husband. I love being a woman.
I won't force my girls to dress either way, especially since we have a muddy yard much of the year, but I do want to present a feminine model for them to follow when they start purchasing their own clothes. Beth already prefers dresses, but Mary is a tomboy and loves the outdoors too much to feel comfortable in dresses as a rule right now, and I usually have Beth change out of her dresses when she's ready to go outside, to keep them nice and stain-free.
I'm grateful for…
~ the times I write a post and the Internet works long enough for me to post it in its entirety, which apparently isn't going to happen tonight. I'll have to copy this now and paste it into a post when the Internet is working again.
~ my children's zest for life...all of it...winter, spring, summer, fall.
~ picture books
~ Mary is printing better and I don't have to stay right with her anymore, to make sure she doesn't start her letters from the bottom.
~ my husband's strong, warm arms
~ Christian friends
~ another new baby will join us in the church nursery this week. Another two-month-old. Can't wait to hold her!
~ Mary praying to find a grasshopper in the yard yesterday, and the Lord giving her three! Imagine that? Grasshoppers still around after a snow! Only the Lord could make that happen. I love that Mary prays whenever she needs help with anything.
~ My boys behaving far better at bedtime. Been more peaceful around here at night lately. I have them turning in earlier and getting up earlier.
~ winter comfort food to look forward to
~ time in the kitchen with my children (or husband)
A quote to share...
Proverbs 16:3 Commit your work to the

Lord

, and your plans will be established.
Thank you for reading here today! How was your week?