In my life this week:
Well, let's see. Let me rehash a little craziness for you.
I now carry an epi pen for Paul, age 9. Turns out he's allergic to yellow jacket bees. The entire top half of his body turned into one big hive, and so, yeah, we went to the emergency room, where they assured me it would be worse next time. They taught me how to use an epi pen. Fun stuff.
And Peter, age 11? He couldn't let Paul steal all the attention. Oh, no. He tried a trick on his bike and fractured a bone in his pinky finger and another in his hand. Three weeks in a cast...but it could be worse. It could be his whole 6-week vacation in a cast.
And not to be outdone, my 90-year-old father-in-law fell at a Florida store parking lot and ended up in the hospital, but is now in a rehab facility where he will get stronger in the next month or two before moving up here to Ohio to live with us.
My father-in-law asked me tonight on the phone,
"I was wondering how warm you keep your house?
"
I think he's still deciding if his arthritis can take the cold Ohio winter weather, and if he can take the four children. (My children know one volume...
loud...
unless they're reading. No, I haven't mentioned this yet.) Instead of shocking father-in-law with the real winter furnace numbers, (about 63 at night and 65 or 66 during the day) I replied, "
Luther, we'll keep the house as warm as you like it."
He was worried about my boys, who he knew probably won't like a warm house. No kidding. My Peter runs around with no shirt on at 65 degrees. We may have to give grandpa a space heater in his room or we'll lose the house over the heating bill.
Lastly, Maybelline, without asking me, decided to quit making the combination foundation/powder/sunscreen make-up I've used for a long time. It hid a lot and went on lightly, not cakey. I wasted a long time in Walmart going around and around the two make-up aisles, trying to find it and then trying to find a replacement. Not that this matters in my life that much...it was just one of the things I could count on.
In our homeschool this week:
Technically, we're on vacation but my boys did more reading this week than they do on a typical school day. Peter, because he's supposed to rest, elevate and ice that hand/arm, and Paul because he's reading the best book ever (
The Candymakers
by Wendy Mass). Or at least it says so over on the
Amazon reviews
, and my Paul agrees.
Paul confessed to me more than once this year...."
I'm sorry, Mommy, but I just don't love reading."
Of course I knew this. He loves maps, statistics, charts, graphs and puzzles...typical math stuff. But right now he loves reading best of all and I have to thank Wendy Mass, middle-grades author, for that. It's glorious to hear my Paul exclaiming how much he loves a book.
Scholastic's Synopsis
for
The Candymakers
:
Four children have been chosen to compete in a national competition to find the tastiest confection in the country. Who will invent a candy more delicious than the Oozing Crunchorama or the Neon Lightning Chew? Logan, the Candymaker's son, who can detect the color of chocolate by touch alone? Miles, the boy who is allergic to merry-go-rounds and the color pink? Daisy, the cheerful girl who can lift a fifty-pound lump of taffy like it's a feather? Or Philip, the suit-and-tie wearing boy who's always scribbling in a secret notebook? This sweet, charming, and cleverly crafted story, told from each contestant's perspective, is filled with mystery, friendship, and juicy revelations.
I had the boys each summarize and evaluate their school year
earlier this week
, but we forgot to include any science details. This year they read:
The Story of Inventions
Diary of an Early American Boy
Electricity and Magnetism
How Things Work
Light and Color
The Usborne Complete Book of the Microscope
Tops Magnetism and Tops Electricity
Space, Stars, Planets and Spacecraft
By far they were most fascinated with
The
Usborne Complete Book of the Microscope
.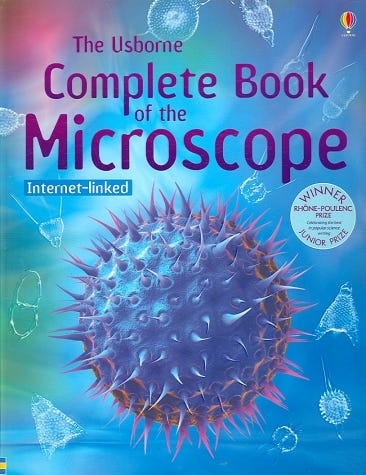 At the time they read it we didn't have a microscope, but their aunt bought them one in July, and now they collect blood from bloody noses and fallen hair, etc. for microscopic study. This week they decided their microscope is too cheap and they want a super expensive one from Amazon.
"Alrighty then. We'll pray then, shall we, boys?"
Places We're Going and People We're Seeing:
You mean besides the guys and gals in the emergency room? We didn't go anywhere else. Momma was on the phone a lot to Florida about Grandpa.
My Favorite Thing This Week:
Hearing my husband tell his father,
"My wife is a very resourceful, capable person. It's amazing what she can accomplish. Her energy and love never give out and she can handle caring for you during the day, and I'll help at night."
My husband's love language is quality time and physical touch, so he rarely compliments me. He forgets that my main love language is affirming words (though I'm not picky after fourteen years of marriage, six pregnancies, and four active kids. I'll take the love any style it comes).
Anyway, hearing this said about me...well...it floored me in a good way. I never knew my husband thought these things about me, though I knew he loved me.
My Kids' Favorite Thing This Week:
Paul
- Reading
The Candymakers
and playing rummikub with Mary and checkers with Peter
Peter
- Putting various fluids and specimens under the microscope and having his praying mantis molt for the second time. The thing is huge now.
Mary
- Playing in humongous rain puddles, finding a giant cucumber in our garden, playing rummikub with Paul, catching huge grasshoppers, finding several toads.
Beth
- Pretending with her dollies and strollers and dishes and books, cuddling with Momma and playing in the rain puddles.
Things I'm Working On:
I was too busy this week to read any further on the
Sonlight Eastern Hemisphere reading list
, and school starts in 5 weeks. Now I'll have to carve out extra time this week to get everything pre-read in time. Sonlight picks wonderful, high-quality, heartwarming books, but you have to throw out a couple bad seeds every year...
before
your kids start reading, preferably.
And I'm working on finding this cricket in our laundry room that never made it into the frog's aquarium. It sings every night and for the life of me, I can't find it,
and it never dies!
It seems like it's been 5 weeks now.
I'm Cooking:
barbecued pork ribs, taco bake, crockpot whole chicken, chicken noodle soup, spaghetti, whole wheat pancakes, turkey burgers
I'm Grateful For:
My husband, my children, the police officer who took my father-in-law to the hospital after his fall, my Lord, all the Psalms King David wrote, that the Lord looks at the heart above all, the Lord's strong, sustaining, comforting arms, and my husband's too!
I'm Praying For:
Several friends' requests, that the swelling will go down in my Beth's arthritic knees, for my father-in-law, my children and my husband, and as always, for my extended family's salvation.
Quote to Share:
Matthew 19:26
But Jesus looked at them and said, "With man this is impossible, but with God all things are possible."
And how was your week, friends?