I've been doing more children's ministry lately and not surprisingly, I'm sick more often. I don't know if it's back-to-back colds or what, but fatigue and muscle aches seem to be a new normal.
Perhaps cold season has been so much harder this year because we never got any teaser warm days in March, like we usually do. April's been wintry so far, except for the 50's we had yesterday.
The tulips and other bulbs are usually in bloom by now, but this year they're just coming up out of the ground.
Easter Sunday the kids were acting and looking well and I wasn't coughing or sneezing, so we went to church. I noticed there wasn't enough help in the Pre K-K room so I stayed to assist.
Taking those kids to the bathroom is not something you want to do alone, and not every adult who signs up to help actually
shows up
. A few have the habit of peeking in and only seeing a few children, so they go to service instead.
Five minutes later, six more children show up. Children's ministry is very hard in that getting reliable help to work for free,
feels like a miracle
.
If you do any children's ministry, you're nodding your head right now.
Larissa, one of my favorite little girls in this class, seemed very healthy on Easter, all dolled up in her pastel fancy, happy as could be.
Then
she sneezed
...................
My friends, it was a sneeze you could write a children's book about.
The Great Big Sneeze,
by Christine Doe. I already have a few pages of that book written in my head.
A thick line of dangling snot shot from her lovely nose, reaching almost to the desktop. The teacher and I both scrambled, looking for tissues. Our church meets in a school and I believe this is the first grade room. Finding the unsuspecting teacher's stash, I ran to the embarrassed, dismayed girl with three tissues in hand, my heart full of compassion.
Sometimes it occurs to me that I could have been a school nurse. I love to nurture and when children are sick, my heart bleeds love. I volunteered to catch the dangling line of cold virus, thinking it was too much for Larissa to manage by herself.
And it was
, believe me.
Larissa passed the rest of class feeling especially close to me, I think.
But I must have been in direct line of that sneeze, because now I have an old cold mixed with a new cold, despite the teacher's smart stash of hand sanitizer.
I think we owe the teacher some money for supplies by now?
If my husband can take over with the kids for just half a day, I can concentrate on drinking a ton of water and resting. Hopefully that will happen tomorrow afternoon.
Since I'm canceling our Children's Bible Study for tomorrow, I have a little time to share the great books we enjoyed this morning.
Am I Big or Little?
, by Margaret Park Bridges, 2004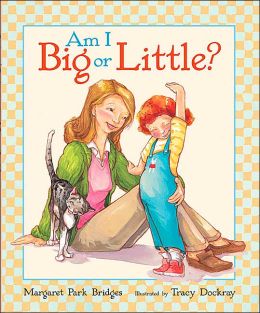 This book is reminiscent of

The Runaway Bunny

. It gave me such a warm, fuzzy feeling, I had to read it again immediately, letting it sink into my mother soul. My girls snuggled into me, enjoying every word.

A tiny preschooler asks her mom, "

Mommy, am I

little

or am I

big

?"

"

You're both, sweet pea.

"

"

You're little enough to ride piggyback to the stairs.

"

"

But I'm

big

enough to hop all the way down

."

Each page is part of their conversation, and the illustrations by Tracy Dockray? Just perfect for the mood and characters.

I recommend you check this out especially for the lovely, perfect ending. You'll remember why there's nothing dearer or more worthy of your time,

than loving a child

.

One reading of this book every morning will carry you through the spills, the messes, the endless laundry and sticky floors.

Really.

I mean that.

I'm aching to print the ending here, but that would spoil the suspence and I just couldn't do that.

Next up....

Eleanor

, by Barbara Cooney, 1996
I very much enjoyed this Eleanor Roosevelt biography, geared toward ages 5-13, even though I found myself deeply saddened by the tragic turn her young life took. Later, as she develops into a lovely young lady full of compassion and grace, you can't help but cry and cheer. This would be an awesome addition to your library list this week.
I love the author here too, Barbara Cooney, who also wrote and illustrated
Miss Rumphius,
one of my favorite children's books.
I leave you with a longer review of the Eleanor book, from
Scholastic.com
:
"From the beginning the baby was a disappointment to her mother." So begins the story of Eleanor Roosevelt's painful childhood. Rejected by her mother and neglected by her father, she develops a "serious" demeanor, which keeps her isolated from other children as well. When her father takes her to a lodging house to serve Thanksgiving dinner to homeless boys, it is this demeanor which moves her to always remember the poverty in which some souls live. She is a lonely child, even before she is orphaned at the age of nine by her mother's diphtheria and her absent father's fall. Sent to live at Grandma Hall's gloomy, silent house, her shapeless dresses, short skirts, and black stockings make her stand out from the other girls. By the age of 14, her peers have become elegant young ladies and she is still an awkward girl. Finally, Grandma Hall writes to a European boarding school: "Eleanor is a good girl but sadly unattractive and full of fears." She asks the boarding school to accept Eleanor. Happily, Eleanor is accepted. At school she is encouraged to think for herself, and to be passionate about life. Her experience transforms her and prepares her for her destiny — to become the First Lady of the United States, one of the most remarkable women of the 20th century.
Barbara Cooney, a two-time Caldecott Medal winner, has said that a picture book is like a string of beads. The illustrations are the beads, and the text is the string that holds them together.
Children will be inspired by this biography of a great historical figure emerging from a life of hardship.
Use Eleanor in studies of U.S. History or Great Women of the 20th Century.
And here is
Miss Rumphius
, by the same author...another awesome addition to your library list for this week.
Publisher synopsis:
Seeking adventure in faraway places, Miss Rumphius fulfills her dream and then sets out to make the world more beautiful.
I loved reading this book to my first graders every year. Following the reading, I asked them to think and write about what they could do to make our world more beautiful. We talked about physical beauty and moral beauty...a great spring board for many discussions.
(ages 4 - 13)
Have a blessed weekend! We're praying for sun here. And warmth!