In my life this week…
It was a mixed week, some high highs and some lows. I guess most homeschool moms would say the same about a typical week?
I wrote out my testimony
this week
and ended up in tears many times, contemplating the richness of God's grace. Saved at age 31, I represent a small percentage of born-again Christians,
as shown below:
Another survey -- by the International Bible Society -- indicated that 83% of all Christians make their commitment to Jesus between the ages of 4 and 14, that is, when they are children or early youth. The Barna Research Group surveys demonstrate that American children ages 5 to 13 have a 32% probability of accepting Christ, but youth or teens aged 14 to 18 have only a 4% probability of doing so. Adults age 19 and over have just a 6% probability of becoming Christians.
This data illustrates the importance of influencing children to consider making a decision to follow Christ.
Because the 4-14 period slice of the pie is so large, many have started referring to the "4-14 Window." Many people serving as career cross-cultural missionaries have testified that they first felt God calling them to missionary service during that 4-14 age period.
"The 4-14 Window: Child Ministries and Evangelism Strategies" by Dan Brewster
I'm tearfully grateful this week, is all I can say
. It's important for all of us to revisit our testimony from time to time.
Though the above statistics are sobering, I believe educating our children at home maximizes their probability of accepting Christ, and developing a
truly personal
relationship with Him--one that will always be there for them.
The lows this week had to do with 4yo Beth's juvenile rheumatoid arthritis. She's got a bad cold which triggered more joint swelling, and her NSAID, meloxicam in suspension, was backordered until the 22nd. Checking other pharmacies only revealed how scarce it is in suspension form. Only 1 in 1000 kids get juvenile rheumatoid arthritis, so most medications for RA are in pill form for adults.
What the rheumatologist finally had to do was change her prescription and order naproxen in pill form, having the pharmacy cut the pills in half for me to crush and put in a spoon of applesauce. Naproxen was discontinued in suspension form several months ago, for some reason, and that was the beginning of our medication problems.
As I researched the various NSAIDs, I panicked at all the possible reactions and side effects, some of them fatal. Whenever a child has to be on medication, it's heartbreaking to read the pamphlets and wonder...what if? Especially when a low-dose chemo drug is in the mix as well. She's been on NSAIDs everyday for over 2 years already, and the risk for serious side effects increases with prolonged use.
Still, this disease used to put kids in wheelchairs and some went blind from the eye involvement, so medicine has come a long way. I have much to be grateful for, despite not knowing what the future holds for Beth's case.
My Counselor, the Holy Spirit, taught me, once again,
that there are only a few things God holds me accountable for
--such as reading the Bible, praying, and raising my children for the Lord. All the things I have no control over, such as diseases, disorders, and the strength of the economy?
They are the Lord's, not mine, to carry
. Peace and joy are robbed from us when we carry what isn't ours.
So on this Friday, I'm feeling lighter about the whole thing. Thank the Lord for my Counselor and Comforter!
ln our homeschool this week…
The boys are reading a hodgepodge this week, along with the regularly scheduled Sonlight F programming. I finally found the sequels for
Henry Reed, Inc
. in good condition, so they've been sailing through those the past couple weeks and enjoying every minute, giggling at Henry's antics and marveling at his zany intelligence.
They're also reading
Jenny Wren
by Dawn Watkins, published by Bob Jones University Press.
($7.49 at Christianbook.com
)
It's a heartwarming, beautiful story about a welfare child, Jenny Wren, who gets passed from one foster home to another, developing attachment disorder, before coming to an elderly Christian couple who live alone on a farm, their children grown and gone. The welfare department regards the couple as too old, but God intervenes to give Jenny what her soul aches for.
At first Jenny hates it when they read from the Bible and pray at every meal, but finally, she realizes they know something about her heart that she doesn't. She falls in love with the rhythm of the farm, the wholesome food and family meals, the trees and the animals, and she not only grows to trust and love the couple, but she receives the greatest gift of all too. I won't tell you what it is, but can you guess?
I picked this up at a thrift store a couple years ago and finally pre-read it early this week, telling the boys,
"You've got to read this story right away. It'll stay with you forever."
Both boys tell me daily how much they like it, and both asked me if they should take in foster kids some day. Their compassion toward Jenny warms my heart. I told them, again, that God expects a response from us regarding orphans and the poor. We're not to turn our hearts from their plight, and even if we only give money, it's something.
Doing nothing is not an option.
When the boys were younger I bought used Bob Jones reading texts for two years, and I do miss those Christian stories for supplementing library reading. I've since sold those readers, but after reading this decidedly Christian story, I've decided to buy the texts again for the girls. The used copies are so inexpensive anyway. This same author, Dawn Watkins, writes short stories for the Bob Jones readers. I find her a wonderful story teller and a solid writer.
I have four Social Studies-themed picture books to share this week:
The Blessing Cup
by Patricia Polacco is a companion book to
The Keeping Quilt.
In this book, Patricia tells about Great-Grandmother Anna's life before being forced to leave Russia in the early 1900's, along with all Jews. This brought tears to my eyes, about the riches of family, tradition, and love. Children don't always realize what a gift their family is to them, and this book will certainly change that, as well as teach a powerful history lesson about freedom and oppression (they end up in America).
Papa's Mark
by Gwendolyn Battle-Lavert is about the black vote in America.
While it was guaranteed by the Fifteenth Amendment in 1870, it was many years before literacy rates for Southern Blacks made it possible to vote. Many southern whites weren't happy about the black vote, and violence was always a threat.
In this powerful story, a boy watches his father painstakingly learn to write this name, finally succeeding with the help of his young son, who stood by his father proudly, despite the threat of violence on election day. Other town blacks, afraid to go to the polls, are influenced by Papa, who becomes a symbol of courage and honor. I read this first in the library, and so many tears flowed that I had to turn away and hide from the librarians.
It's been a week of tears with books and other things---all good ones though!
Bring Me Some Apples and I'll Make You a Pie: A Story about Edna Lewis
by Robbin Gourley, is about the glorious gift of homegrown food, from orchard and garden right to the table--something that's gotten lost in our culture. This book is a mesmerizing eye-opener for many, and not just children!
Publisher synopsis
:
Long before the natural-food movement gained popularity, before greenmarkets sprouted across the United States, Edna Lewis championed purity of ingredients, regional cuisine, and the importance of bringing food directly from the farm to the table. She was a chef when female chefs---let alone African American female chefs---were few and far between, and she received many awards for her work. With lyrical text and glorious watercolor illustrations, author/illustrator Robbin Gourley lovingly traces the childhood roots of Edna's appreciation for the bounties of nature. The story follows Edna from early spring through the growing season to a family dinner celebrating a successful harvest. Folk rhymes, sayings, and songs about food are sprinkled throughout the text, and five kid-friendly recipes and an author's note about Edna's life are included at the end.
The Book Boat's In
by Cynthia Cotten is about floating libraries bringing literacy and learning to isolated groups during the westward expansion of the 1800's. Young Jesse's work ethic and love for books will charm many. Again, tears at the library as I read this.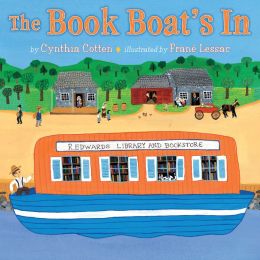 Publisher Synopsis
:
Jesse has waited for months for the arrival of the book boat. There he finds a used copy of The Swiss Family Robinson that he desperately wants, but at twenty cents the book costs too much. After working hard, Jesse is deeply disappointed: he has only seventeen and a half cents. But his luck changes when he learns that there's another copy, which the owner will sell for just fourteen cents. This nostalgic picture book is based on the 1800s book boat that traveled along the Erie Canal. Colorful folk art-style paintings complement this book about the love of reading and the merits of hard work.
While I check out picture books for the girls' curriculum mostly (ages 4 and 6), I do require my boys (9 and 11) to listen in most of the time, as they learn much from these high-quality, powerful books, too.
Mary, age 6, is moving right along in reading, picking up more sight words and enjoying her
Sing, Spell, Read & Write
readers. She still struggles to distinguish
b
and
d
while sounding out words, but as with her brother Peter before her, I've learned that this takes time for some kids, despite whatever tricks we employ.
A few notes on our writing, and I'll move on. We're still enjoying
Writing With Ease Level 4
by Susan Wise Bauer, but I'm supplementing it with Sonlight's dictation passages from the
Sonlight Core F Eastern Hemisphere reading list
, and with personal narrative journal writing and poetry writing.
The Sonlight passages are longer and more appropriate for the boys' abilities, but we still prefer the narration work given us in
Writing With Ease
. They come from famous, classic works like
Little Women
and
The Phantom Tollbooth
, among others. We never know what piece of literature we're going to deal with on any given day, and we find the variety exciting and intriguing. My husband read
The Phantom Tollbooth
a couple years ago to our boys, but this week they expressed a desire to read it again, on their own, which is fine with me! Using
Writing With Ease
has deepened my boys' love of literature, giving them an even greater appetite for the best, and broadening their horizons beyond what I could do on my own.
Helpful homeschooling tips or advice to share…
This is a hard journey, this homeschooling endeavor. A messy house coupled with three kids needing help at the same time earlier today, and a fourth child, age 4, interrupting everyone's concentration, nearly had me in tears. There will always be those intense, overwhelming moments when you want to send them all outside and lock the door so you can
just get some order back to the house.
Once in a while I do just that, but more often
I remember that it's consistency that makes a successful homeschool
(besides lots of prayer).
Clutter drives most of us crazy, yes, but it can wait until the main subjects are out of the way, and you can enlist the children's help at that time. Walk past it and keep your cool in the meantime, maintaining as consistent a schedule as you can.
My favorite thing this week was…
Writing out my testimony and watching
Heidi
as a family movie last Friday night, and having the privilege of sitting next to my 6 year old as she learned Psalm 23 for AWANA.
The whole thing seemed overwhelming to her on our first practice day, and she whined. I told her the Lord didn't expect her to do it in her own strength. We prayed for His help, and lo and behold, she got it that session.
I love, love, love it when the Lord builds my children's faith this way.
Sometimes when I'm really struggling with something and ready to scream, like while unclogging a toilet, I'll go to all the children and ask them to pray, and immediately, the toilet behaves. I know the Lord does this to build my children's faith (and of course, mine too:).
My kiddos favorite thing this week was…
Giggling at the
Henry Reed
books, feeling successful in their learning endeavors, playing basketball and football, and doing some baking from scratch. Peter made a to-die-for apple crisp (I only prepared the apples and manned the oven). Paul made a chocolate pie, which at first didn't set. We poured out the pudding-like mixture and cooked it some more, and then it set fine.
I'm grateful for…
~ The Lord plucking me out of this world and bringing me to the Throne of Grace, at age 31.
~ The power of the Psalms to soothe and teach.
~ The Lord's power and might and faithful partnership with me as I teach each day.
~ Good literature
~ The comfort a mother's arms can impart.
~ The never-ending power of prayer.
~ That the Lord never expects us to accomplish anything in our own strength.
~ A faithful, affectionate Christian husband.
~ The safety and sanctity of home.
A quote to share...
Psalm 23
The

Lord

is my shepherd;


I shall not want.


2 He makes me to lie down in green pastures;


He leads me beside the still waters.


3 He restores my soul;


He leads me in the paths of righteousness




For His name's sake.
4 Yea, though I walk through the valley of the shadow of death,
I will fear no evil;
For You are with me;
Your rod and Your staff, they comfort me.
5 You prepare a table before me in the presence of my enemies;
You anoint my head with oil;
My cup runs over.
6 Surely goodness and mercy shall follow me
All the days of my life;
.
Thank you for reading! How was your week?