In My Life This Week:
It was a really great, productive week, outside of the usual unpleasantness of things breaking--like my husband's car breaking down for the second time in 7 days, and some house pipes temporarily freezing, and the dryer screeching louder than last week. The dishwasher that broke last April or May, now fills up with water for some reason, probably having to do with a drain problem somewhere.
How do I avoid crying when more than one thing breaks in a week? Bible and books. The more life gets rough, with no immediate answers, the more I soak up Scripture and good stories.
If you have your children gathered close, and you have a good story to share, what could be wrong?
I remember reading that a large homeschooling family who writes Christian material professionally, doesn't encourage their children to read a lot of literature
because it can be a waste of time
.
A waste of time?
I was shocked.
Well...we do sit down when we read. We don't generally fold laundry or cook or clean at the same time, so yes, I can see how one could read the day away and not wipe any faces or make any oatmeal or peanut butter and jelly sandwiches, or sweep any floors or teach any lessons.
A book lovin' mother must exercise restraint, for sure. It's hard, let me tell you, especially when
Rebecca of Sunnybrook Farm
is in your heart and lap. I'm reading this to myself at night, and to the kids after lunch each day.
Synopsis
:
When Rebecca comes from the chaotic family farm to live with her spinster aunts in Riverboro, strict Miranda and gentle Jane don't know how to cope with a wild and zestful ten-year-old -- nor she with them. But Rebecca is the most likeable, energetic, enthusiastic girl anyone ever met. And Riverboro is never the same again either!
Lexile 1190, Grade Equivalent 8.9
But really? Books...a waste of time? Life this side of heaven is hard. We need outstanding books to provide joy, escape, and perspective. A timeless book reminds us that we are not the only suffering souls that ever lived, and that courage and honorable character are choices.
In Our Homeschool This Week:
The boys, ages 10 and 12, still enjoy Writing With Ease, by Susan Wise Bauer, and also morning quick writes. They continue to read Water Sky from their Sonlight Core F curriculum, and are almost through Usborne's Complete Book of the Human Body, and Almost 12 (a very good Christian book about puberty). They have some non-fiction reading about China to finish up, and some World Book DVD ROM research to finish up about China, before moving on to a study of Russia.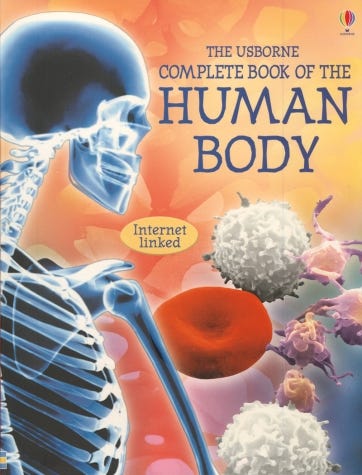 We continue to read through
1 Kings
with the accompanying commentary in my study Bible, during morning devotions, and the boys also read it on their own later.
The girls, ages 5 and 7, enjoyed many books with Mommy this week (boys listened too), and are moving right along in their studies. I'm seeing more maturity and ability to buckle down and work hard. Mary's reading fluency improved this week, and Beth's handwriting looks better, too.
Several of the library books I'm about to share are social-studies themed in one way or another. I purchased a Sonlight science curriculum for the girls, but for social studies we use library books and our own non-fiction library.
Abe Lincoln Crosses a Creek
, by Deborah Hopkinson, whose author page at Scholastic is
here
.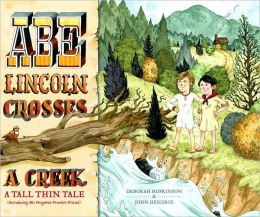 Overview:
This ALA-ALSC Notable Children's Book and
Booklist
Editors' Choice is an ingenious historical fiction picture book about the 16th president of the United States, Abraham Lincoln. It's a tale of two boys who get themselves into more trouble than bear cubs in a candy store.
The year is 1816. Abe is only seven years old, and his pal, Austin, is ten. Abe and Austin decide to journey down to Knob Creek. The water looks scary and deep, and Austin points out that they don't know how to swim. Nevertheless, they decide to traverse it. I won't tell you what happens, but let's just say that our country wouldn't be the same if Austin hadn't been there to help his friend.
My Mary told me this Lincoln story is one of her favorites, and my son Paul said the author has a fantastic writing style, a view I most certainly agree with.
__________________________________________________
Fannie in the Kitchen, by Deborah Hopkinson
Yes, this week I checked out several Hopkinson titles. She's definitely one of my favorite children's authors.
Marcia is unhappy when Mama hires a mother's helper named Fannie Farmer. However, as Fannie shows Marcia how to spot a rotten egg, choose the best melon, and flip a griddle cake at the precise moment, Marcia finds joy and comfort in Fannie's kitchen.
It's so heartwarming the way Fannie teaches this young girl how to bake and cook, just as her mother welcomes a new baby and is over-the-moon happy and preoccupied with her precious bundle of joy. We enjoyed every minute of this charming tale, and cheered for little Marcia with her new-found confidence!
____________________________________________________
Knit Your Bit, A World War 1 Story, by Deborah Hopkinson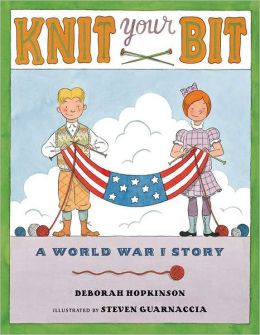 Publisher Overview
:
Mikey's dad has left home to fight overseas during World War I, and Mikey wants to do something BIG to help. When his teacher suggests that the class participate in a knitting bee in Central Park to knit clothing for the troops, Mikey and his friends roll their eyes—knitting is for girls! But when the girls turn it into a competition, the boys just have to meet the challenge.
Based on a real "Knit-In" event at Central Park in 1918,

Knit Your Bit

shows readers that making a lasting contribution is as easy as trying something new!
This story is exciting, charming, and informative, with plenty of historical details. A friend from church came last weekend and taught us how to knit, and I wanted to read this to the boys so they would feel confident in their desire to learn to knit. Whether they will actually take it up for good, I can't say, but at least Paul enjoys it (saying it's so relaxing). Any handicraft, whether it's knitting, woodworking, painting, or drawing, is very good for kids. We have to intentionally resist the electronics craze and get them working with their hands. Far better for the brain!
________________________________________________
Next we move on to three Patricia Polacco books,
whose Scholastic author page is
here
.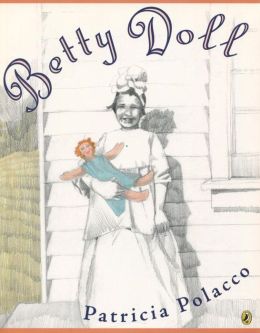 Publisher Overview: Whenever Mary Ellen needed Betty Doll, she was there. Betty Doll saw her through happy and sad times, thunderstorms and parties, weddings and births. Now, when Mary Ellen's daughter Trisha needs Betty Doll most, she rediscovers the sweet old doll, along with a letter written by her mother before she died. This touching story is a reminder of the power of a mother's love and the joy of life's precious moments.
I suffered from leaky eyes all week, reading to the kids. All these stories are just precious and I didn't get to the end of one of them without crying.
______________________________________________________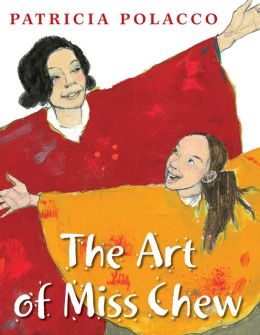 Publisher's Weekly Review
:
As she did in Thank You, Mr. Falker and The Junkyard Wonders, Polacco pays homage to an influential teacher from her childhood—in this case, two of them. Trisha's homeroom teacher, Mr. Donovan, who has "a laugh that sounded like bells ringing," realizes that Trisha needs extra time to finish (and thereby pass) tests. He also recognizes her artistic talent and arranges for Trisha to join Miss Chew's high school art class. The girl immediately feels at home under the tutelage of Miss Chew, who is of Chinese descent and whose grace and warmth emanate from Polacco's vibrant portraits (Miss Chew is often seen in brightly patterned dresses and paint-spattered smocks, arms spread wide). Emotionally and artistically, Trisha connects with the woman, who emphasizes the need "to see" rather than merely look at one's subject; Miss Chew also pinpoints the cause of Trisha's reading troubles, though a one-note villain of a substitute teacher threatens Trisha's progress. The joy of artistic creation and the value of teachers who are willing to look outside the box come through clearly in the first-person narrative and Polacco's fluid illustrations.
______________________________________________________________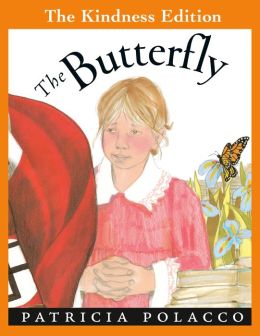 Publisher Overview:

Ever since the Nazis marched into Monique's small French village, terrorizing it, nothing surprises her, until the night Monique encounters 'the little ghost' sitting at the end of her bed. She turns out to be a girl named Sevrine, who has been hiding from the Nazis in Monique's basement. Playing after dark, the two become friends, until, in a terrifying moment, they are discovered, sending both of their families into a nighttime flight.

During the Nazi occupation of France, Monique's mother hides a Jewish family in her basement and tries to help them escape to freedom.
Our Favorite Things This Week:
I've enjoyed cuddling with children and books, and my quiet time reading
Rebecca of Sunnybrook Farm
at night. I continue to enjoy John Piper's Advent book
Good News of Great Joy.
John Piper is a phenomenal theologian.
The children enjoyed baking snicker doodles and soft ginger snaps, and the boys rather liked the excitement of pipes freezing on us for the first time in our 8.5 years in Ohio. I, however, panicked, before checking the Internet for solutions. Only 3 faucets were affected; we used a space heater to heat up a closet that houses pipes.
They drew while I read aloud after lunch each day, and they're mighty proud of their creations.
I'm Grateful For:
~ lots and lots of grace
~ our practice of dedicating the day to the Lord each morning during devotions. We also ask for control over our tongues as we dwell and learn and play together, which really helps us remember to be kind to each other as we go about our day.
~ good friends
~ the power of prayer
~ siblings being best friends (even if they don't realize it)
~ getting lost in stories and verses
~ a very kind, helpful mechanic who even comes to our home when we need him (husband's car is 25 years old!)
~ Beth making strides in speech therapy this week
~ letters from
Compassion
kids
~ Paul's headaches have not returned!
~ Peter turning 12 this weekend (I've been doing this 12 years already? Blows my mind how fast it's gone.)
~ no matter how many things break, my spirit is always whole and healthy in Him
Matthew 4:4 'Man shall not live on bread alone, but on every word that comes from the mouth of God.'"
"Fantasy is escapist, and that is its glory. If a soldier is
imprisoned
by the enemy, don't we consider it his duty to escape?. . .If we value the freedom of mind and soul, if we're partisans of liberty, then it's our plain duty to escape, and to take as many people with us as we can!"
―
J.R.R. Tolkien
"Literature adds to reality, it does not simply describe it. It enriches the necessary competencies that daily life requires and provides; and in this respect, it irrigates the deserts that our lives have already become."
―
C.S. Lewis
"Oh! Do not attack me with your watch. A watch is always too fast or too slow. I cannot be dictated to by a watch."
―
Jane Austen
,
Mansfield Park
"Medicine is my lawful wife, and literature is my mistress. When I get fed up with one, I spend the night with the other"
―
Anton Chekhov