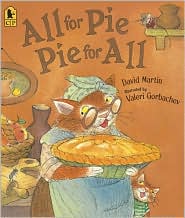 All for Pie Pie for All,
by David Martin
Oh my, folks. Every time I check out this book I'm so tickled by it. Have I blogged it before? I don't think so?
I've been holding out on you book lovers then.
Grandma Cat makes an apple pie, and after Little Brother Cat, Big Sister Cat, Momma Cat, Poppa Cat and Grandma Cat eat a piece, there is one slice left over. Guess who gets that slice? And guess who they share it with?
You'll have to read it yourself to discover the delightful, heartwarming details. What a pleasure! My kids have a smile on their faces the whole read. Yes, even my big boys......including Daddy.
Other books by David Martin, a former teacher, are pictured below. Still more can be found on his
official website
(includes his biography).