Nothing delights two-year-old Beth like the song, "If You're Happy And You Know It". Spontaneously, she breaks into her favorite part,
"If you're happy and you know it, do all three."
Next you see her clapping, stomping and lifting her hands to proclaim, "Hooray!".
Perusing library shelves, I found a jungle edition of the classic song, written and illustrated by James Warhola.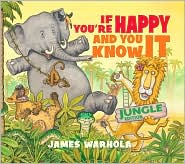 What a giggle-filled workout! There are ten hilarious motions:
- clap your hands
- stomp your feet
- scratch your fur
- give a roar
- flap your wings
- laugh out loud
- beat your chest
- jump up high
- crawl around
- blink your eyes
- do all ten
My little girl is the happiest child on the planet reading and acting out this hilarious book! Lots of jungle friends act out the motions at the playground, along with a couple unsuspecting kids.
Please, check it out! You need a good laugh today.
James Warhola, prolific illustrator, is the nephew of Andy Warhol. One of Warhola's books is about his famous uncle:
Read more about his work in children's literature
here
.