I went off to my local library today, in search of literary gems suggested in the spiritual section of Gladys Hunt's
Honey For A Child's Heart, The Imaginative Use of Books in Family Life
. With my two-year-old in tow, looking for a specific book proved quite challenging. Instead, I grabbed a handful of books that looked interesting, happening to find two of Ms. Hunt's suggestions, quite by accident. She suggests
Prayer For A Child
, featured below, as well as
Psalm Twenty-Three
, also featured below. All the others are wonderful too, though not mentioned in her book! Enjoy!
This is a wonderful Bible companion! It shows artifacts, ancient maps, detailed time lines, and interesting facts revealing the customs and daily lives of various people of ancient times. Truly fascinating for ages 6 to adult. (14 x 9, 76 pages)
Written in fairly large print at about a third- or fourth-grade level, this beautifully illustrated book serves as a read aloud, or as a devotional tool for young readers. (Big and heavy, with171 pages)
Daniel in the Lion's Den
, Retold and Illustrated by Jean Marzollo, author of 130 books, including the award-winning I Spy series. Her Amazon author's page is
here
. She's written several Bible story books, including
David and Goliath
,
Ruth and Naomi,
Jonah and the Whale
, and
Miriam and Her Brother Moses
.
When Jean Marzollo heard this story as a child, she wondered how the angel shut the lions' mouths so that they couldn't harm Daniel. She uses her imagination to retell the story to include what she thinks happened in the cave. Delightful retelling!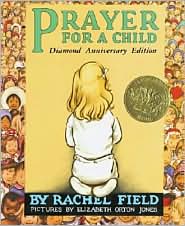 Written in 1941, this precious book won The Caldecott Medal for its illustrations. One look inside and you'll fall in love! I swooned over every picture. And the prayer is quite a gem too. A few sentences a page, appropriate for ages 3-7.
Against the backdrop of an inner city, Tim Ladwig makes this Psalm come alive with rich illustrations, providing children insight into the meaning
.
A young girl and her father help an elderly neighbor, illustrating the meaning of the Lord's Prayer as they love her with their actions. I loved the sweetness, the simplicity, the truth....made me get tears in my eyes.